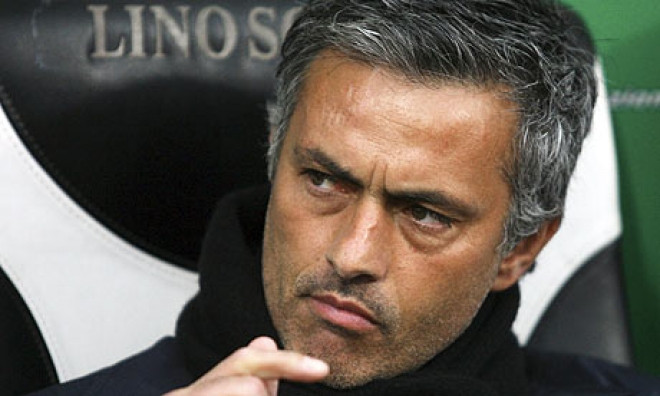 Chelsea manager Jose Mourinho could face a backlash ahead of his side's Champions League tie with Galatasaray after he was caught on camera making disparaging remarks about his strikers, including questioning Samuel Eto'o's real age.
Ahead of an emotional reunion with Blues hero Didier Drogba in Istanbul, Mourinho was recorded by French television company Canal Plus during what he thought was a private conversation with the owner of the Swiss watch manufacturer Hublot.
"I have a team but no striker," Mourinho was quoted as saying. "The problem at Chelsea is that we are lacking a goalscorer. I have one (Samuel Eto'o) but he is 32, possibly 35, who knows?"
Remarks about Eto'o are understood to be in reference to the perceived notion of African footballers lying about their age in order to prolong their careers.
Mourinho's comments also see him write off the contribution of his other striking options, Fernando Torres and Demba Ba. The three strikers have mustered a meagre tally of 11 Premier League goals between them this season, a total bettered by attacking midfielder Eden Hazard.
Despite the well-documented shortcomings of his forward options, Mourinho has consistently praised his strikers for their work-rate and contribution to his side's success this term. Eto'o has on a number of occasions spoken of his healthy relationship with Mourinho, which dates back to the treble success they shared at Inter Milan four years ago, as a defining factor in his decision to join the club last summer.
But the release of private comments, which Mourinho is understood to be furious with, could throw their future at the club into further doubt, particularly after the Portuguese was also recorded discussing the possibility of signing Radamel Falcao.
The Colombian international, whose season was ended through an anterior cruciate ligament injury in January, only joined Monaco last summer, but questions remain over his future with a number of European giants still interested in his services.
"I need a striker, Falcao needs a club," Mourinho is reported to have said.
"A player like him cannot play in front of 3,000 people. Monaco is a club to end [your career with]."