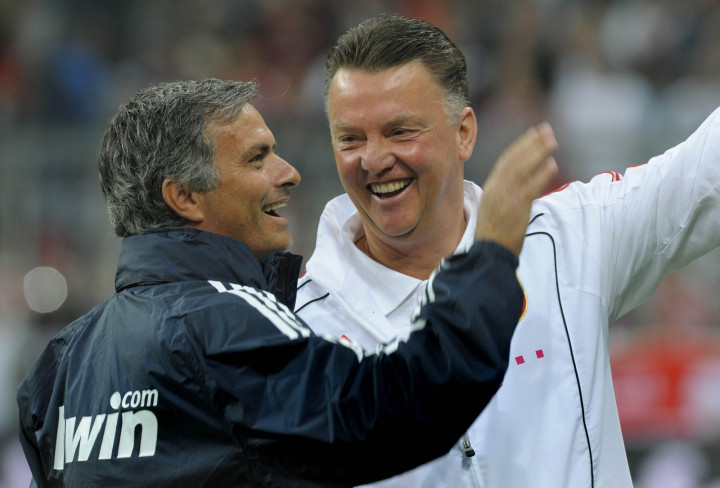 Chelsea manager Jose Mourinho expects Louis van Gaal to turn around Manchester United's fortunes this season following last term's disastrous campaign.
United finished seventh in the Premier League under David Moyes and failed to qualify for Europe, leading to the Scot's sacking before the end of the season.
The appointment of Van Gaal, who guided the Netherlands to third place at the World Cup, coupled with a number of high-profile signings in the summer transfer window, has sparked renewed optimism around Old Trafford and Mourinho is expecting an improved challenge from United sparked by his former Barcelona colleague.

"He is one of the best managers in the world so I think he is a man with great experience for the job," Mourinho told Eurosport. "Manchester United is a big team [and] he is a big manager, so I think they will do well together."
After a successful pre-season, United have failed to win any of their first four games of the season under Van Gaal, a start that has altered expectations ahead of the remainder of the campaign.
The club are now expected to compete for a top-four spot while Mourinho's Chelsea will challenge champions Manchester City for the league title.
The west London club have begun the campaign with three straight wins to set the pace, adopting a free-flowing style of play that has seen them score 11 goals, with Diego Costa having already netted four times for Chelsea since joining from Atletico Madrid.
The Chelsea manager added: "It's [an attacking approach] a direction we tried to establish since the beginning of last season but our squad now is different. We have different qualities now in our players.
"The second season normally is a good season for a manager because you come from one season of work and you can choose a better direction you want to go, and we feel comfortable and we feel happy the way we are doing things."