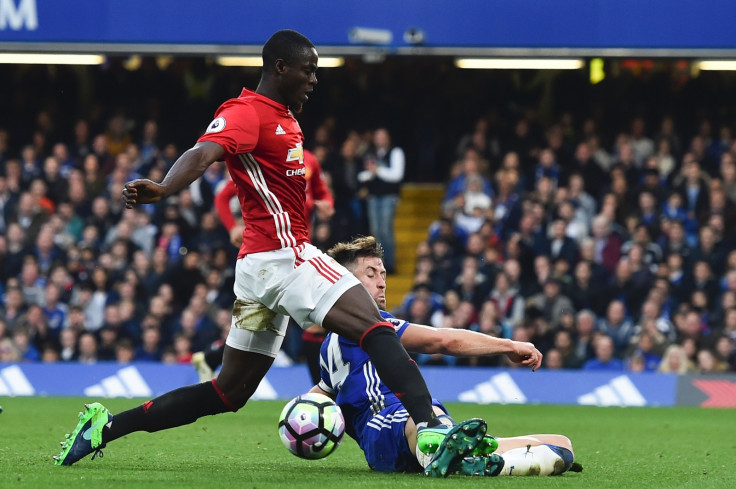 Jose Mourinho fears that Eric Bailly could be facing a long spell on the sidelines after the centre-back appeared to suffer a serious knee injury during Manchester United's humiliating 4-0 defeat to Chelsea on Sunday (23 October). The news comes as a big blow for the Red Devils ahead of their derby clash with Manchester City in the fourth round of the EFL Cup this week.
Bailly was replaced by Marcos Rojo in the 52th minute of the game following a collision with Eden Hazard and afterwards Mourinho revealed that the former Villarreal star may have damaged his ligaments.
"He is injured and I am afraid he is badly injured," he said. "In his knee, in the ligament area, he feels it is really bad."
Bailly is expected to miss at least Wednesday's encounter with City, while there is also uncertainty over Marouane Fellaini's fitness. The Belgium midfielder was replaced by Juan Mata at half-time after appearing to hurt his knee following a tough tackle from David Luiz.
Referee Martin Atkinson booked the Brazilian for the high challenge but Mourinho believes his former centre-back was fortunate to avoid a red card which could have changed the game, despite the fact that United were already losing 2-0.
"I know what you know. I know what everybody knows. Even when I was speaking to Sky, it was one of their questions, so we all know that. But in the end, it's the result that stays, and when you lose 4-0, to come and speak about the referee, it looks like you are trying to get excuses. I just hope that the press does the job in terms of analysing that situation but it's not for me to speak about."
Nevertheless, Mourinho refused to make excuses for the defeat and urged his side to react in their coming games. United welcome Burnley to Old Trafford in the Premier League after their midweek tie against Pep Guardiola's City.
"I would prefer to play in the Premier League. It's a bad feeling in the Premier League. With the combination of results the gap to the top is six points. We've had a very difficult period of matches. We lost points this week and even in the match when we played phenomenal against Stoke, we lost points then. Now we need to win matches. I'm not saying they are easy ones but we have Burnley, we have Swansea, West Ham, Sunderland, Middlesbrough, matches that we need to win and the top four, the top five, they have to play between themselves like we did this week against Chelsea and Liverpool.
"They are going to lose points too so we are in the run but there is no way to hide because I think our faces speak by themselves. We are really, really sad but again this is not for kids, this is for men and tomorrow we have to be men and work for the next one."