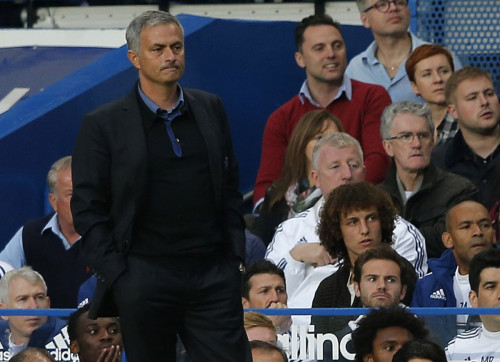 Chelsea manager Jose Mourinho has delivered an insight into the power struggle at Stamford Bridge after implying the decision to sell Juan Mata to Manchester United was taken out of his hands.
Mata, the Blues' Player of the Year in each of the last two seasons, is expected to complete a medical ahead of a £37m move to Old Trafford after being sidelined from the first team by Mourinho since his return to west London in the summer.
United will smash their transfer record to sign the Spaniard after David Moyes came under increasing pressure to supplement his squad in the January transfer window in order to reignite the club's challenge to qualify for the Champions League.
Mohamed Salah has agreed to join Chelsea as a replacement for Mata after a fee was agreed with FC Basel with the club received the "right" offer from the Premier League champions this week.
But Mourinho, who ended his first spell at Chelsea under a cloud amid reports of a falling out with owner Roman Abramovich, has suggested the decision to part with Mata was not his own.
"We analyse everything in every perspective. In an economical point of view it was a fantastic offer," said Mourinho, ahead of the FA Cup fourth round tie against Stoke City.
"Chelsea selling a player for almost double is fantastic. From the scouting point of view we could immediately identify three or four players that could replace him the in the squad. We tried to make decisions where everyone has an opinion.
"I feel very comfortable in this way because this is the way it has to be. If it is a purely football decision I have to say I prefer to keep Juan because Juan is still player that can help us to reach important objectives but other people from the economical area say we should do it because it's fantastic.
"We are sharing these opinions and these visions and we are very happy to do it. The decision to sell came from scouting information, again economical situation related to the next options we have. We think we did well for us and did well for the player."
Mourinho's reappointment as Chelsea manager in the summer, following spells at Inter Milan and Real Madrid after his departure from Stamford Bridge, accompanied suggestions the Portuguese boss had compromised in order to appease owner Abramovich.
The 50-year old claims despite having the decision to sell Mata taken from him, he is content with the structure in place.
"I am very comfortable because the board is absolutely fantastic and my relationship with Michael [Emenalo] in terms of scouting and working with Scott [McLachlan] and all the people working on the scouting is very, very good," he said.
"The board, the owner, Eugene [Tenenbaum], Marina [Granovskala], Bruce [Buck], Ron [Goulay], everyone knows where they are an experts and everyone knows where they are not an expert. I include myself. I know where I am not an expert but we are working well.
"I belong to the board but the board is the board," he added, "I give opinions, I justify my opinions. I try to do things properly and I try to justify because I like to be committed with my opinions. But the board is the board and the owner is the owner."