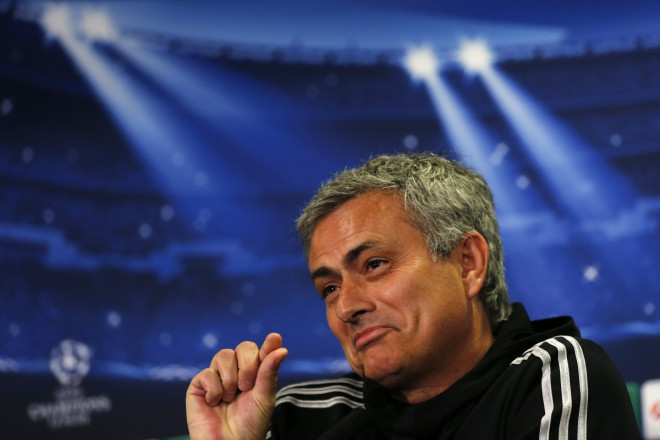 Chelsea manager Jose Mourinho has denied suggestions he could replace David Moyes at Manchester United ahead of the Premier League summit meeting with Liverpool.
Moyes was sacked 10 months into a six-year deal at Old Trafford on Tuesday and Mourinho – who was heavily linked with replacing Sir Alex Ferguson last summer – has been mentioned as among the candidates.
But the Portuguese coach has become the latest high-profile manager to reject the chance to join United by committing his future to Chelsea whom he joined from Real Madrid last summer.
When asked if he would consider a move to United, Mourinho said. "Of course not. Of course I don't know how you can ask something about that. I left Real Madrid to come specifically to Chelsea.
"I told Chelsea that they never have to worry about me because I don't want to leave so I stay here until the club want me to leave. No job would move me from Chelsea.
"I spoke with David [Moyes] privately and I don't have to share it," he added on the former United boss.
Mourinho is planning to field a weakened team in Sunday's trip to Liverpool after losing Ramires for the rest of the season after the Brazilian was given a four-match ban by The Football Association, while Petr Cech and John Terry have both suffered season-ending injuries.
Terry limped off in the Champions League semi final first leg against Atletico Madrid and though he is not expected to feature in the Premier League again this term, Mourinho says he could return for the second leg against the La Liga leaders.
"He [Terry] doesn't make this weekend and he is a little one for Wednesday," he added. "Let's wait. All of them injured, no one coming back. I told you before no chances for Sunday and then a little one for Wednesday, that's it.
"My talks with the club are private. That is private. The most important thing for me is my club and the support of my club are the most important thing for me for me and Chelsea supporters.
"I have to defend my club and I have to defend Chelsea supporters if we are not helped to try and follow our dreams and objectives (it is) one more reason for us to try and think about us and only about us."
On the fitness of Eden Hazard, who has been absent since the Champions League win over Paris Saint Germain, Mourinho added: "Out for Sunday and I don't think for Wednesday but let's wait."