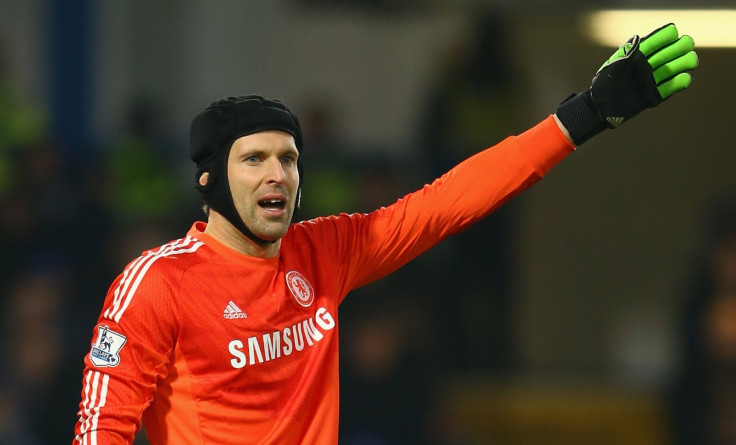 Chelsea manager Jose Mourinho has claimed he opted to hand Petr Cech the number one jersey ahead of Thibaut Courtois for the 1-0 victory over Everton because John Terry was ill in the morning before the game.
The Czech Republic international had previously started just four Premier League games this campaign but vindicated Mourinho's decision with two magnificent safes from Romelu Lukaku in either half.
The Portuguese boss praised Cech's performance while he explained his reasons for dropping Courtois after revealing Terry was forced out of the game due to illness.
"Courtois played consecutive matches, against Liverpool, Manchester City and Aston Villa, games where he needed to be very focused. Every detail is so important, even when he doesn't touch the ball, the focus must be permanent and I think a goalkeeper can also be tired. The tiredness isn't just physical, it's also from your nervous system," he said.
"Petr has been working really well and hard. In every training session I was getting the feeling his condition was magnificent. Tonight he was the best option for the team, also in terms of leadership."
"John Terry was ill this morning and he was probably out of the game until the last minute, so I thought I needed Petr's personality and capacity to communicate at the back. The decision was good."
Cech was indeed crucial to deny Lukaku giving The Toffees the lead either side of half time, paving the way for Chelsea to secure the three points at the end thanks to Willian's late goal.
"Cech touched the ball twice. He was virtually a spectator. But the save in the first half is a very good save and in the second half it's a super save," Mourinho admitted.
"I don't remember a team that were champions without a couple of victories in the last minute, in my case for sure. Every time I've won a league title I had a couple of matches where I won in the last minute. That was the first time for us this season,"
'It was a very difficult match, it was a different Everton and when I say that I mean it as a compliment. They played with a low block and defended very well. They gave us the ball and used Lukaku to attack the spaces. They were a very difficult opponent and I'm so happy with the three points."