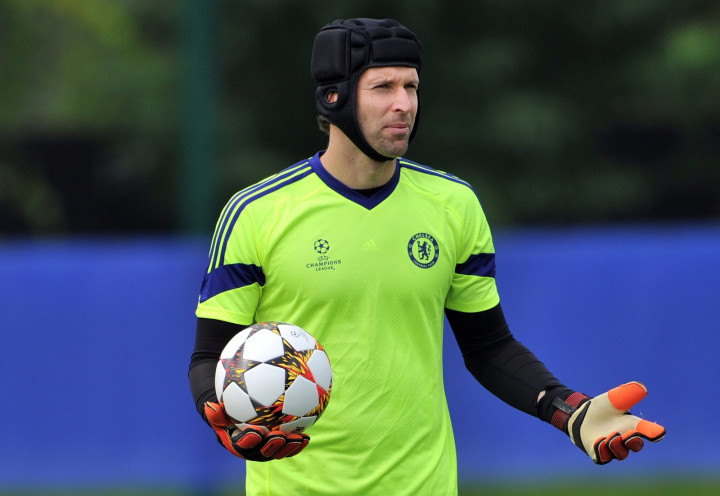 Chelsea manager Jose Mourinho has refused to give Petr Cech any assurances over his involvement this season.
Thibaut Coutois' status as the Blues' No.1 was cemented last week after he agreed a new five-year contract at Stamford Bridge after playing the club's first four league games of the season.
Despite being demoted behind Courtois, Cech remains at Chelsea after failing to agree a move in the summer transfer window with Mourinho insisting he could manage having "two of the best three goalkeepers in the world".
But the Portuguese manager, who is likely to again start with Courtois for the Champions League opener against Schalke on Wednesday, has refused to give Cech any guarantees over when he will feature this season.
"Every game is good for Petr to play," Mourinho said. "Don't be surprised if he plays a Champions League game or a Premier League game, or if Courtois plays a Capital One Cup game.
"What I don't do is say: 'He will play in this competition and he will play in this one.' I must make choices and I must try and make the right choices.
"Petr is more than ready to play every game. It doesn't matter the size of the game and he will play a lot for sure. We are fine and strong."
Cech remained unchanged as Chelsea's first choice in goal for a decade after joining the club from Rennes; however the return of Courtois from a three-year loan spell at Atletico Madrid has seen him demoted to the bench.
The Czech Republic international revealed his delight upon the summer transfer window closing in September, writing on Twitter: "Blue is the colour, It hasn't changed."
Courtois won the Europa League, the La Liga title and reached the Champions League final during his spell in the Spanish capital and has earned a reputation as one of the finest goalkeepers in world football.