The three-wheeled vehicle is used for local transportation and is known as an autorickshaw in India. But 33-year-old Naveen Rabelli decided to take a giant leap and use the vehicle to cover all of 10,000 kilometres from Bangalore to London.
Since quitting his job with Reva, a unit of Indian car maker Mahindra & Mahindra Ltd that makes electric vehicles, Naveen has spent two years tinkering with his second-hand vehicle.
It has now been transformed into a green vehicle running on climate-friendly electric and solar power. Fitted with flexible solar panels on the roof and along the sides, a new motor, battery and gearbox, it can run almost 100 kms after eight hours of battery charging and five hours of solar exposure.
When the vehicle is parked, the side panels act like wings that can be lifted to be charged.
For this electrical engineer, travelling has been a passion. But once he began working on his vehicle, turning it into a solar-electric hybrid, the dream has altered quite a bit.
Now it is more about showcasing his vehicle "as a mobility solution for sustainable living" as he told IBTimes UK. He was inspired by models of sustainability like the kind he saw at Protovillage, some 100 kms from Bangalore, says Naveen.
Named Tejas, meaning brilliance in Sanskrit, the vehicle looks quite different from its counterparts that use diesel or gas. When fully loaded, it weighs almost a tonne and that's double the ordinary rickshaw weight. "But that will be reduced once I replace the heavy lead acid batteries with lithium ion ones that have more energy density," says Naveen.
Solar power generated by the panels is around 600 W in total, out of which 500 W will be used for charging batteries for the drive and 100 W for charging batteries for accessories like lights, computer, camera, electric cooker and laptop.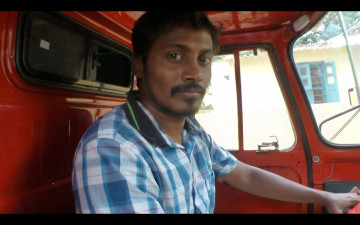 Most of the solar panels have been donated by a well-wisher while Naveen paid up around $150 (£88) for a 100 W panel.
The project has cost him about $6,000. For the 10-nation journey, he requires $40,000.
To a question about electricity and feasibility of using that in a power-starved nation, Naveen points out that his vehicle is cleaner than most other fuels used by local vehicles. "It is also economically cheaper and will cost the rickshaw driver around Rs 85-100 (£0.83-0.97) to drive it for a day as against the Rs 300 he spends now."
Naveen has plans to produce conversion kits for autorickshaws. "Rather than buy a new vehicle, the driver can install the kit and derive the benefits. Besides his savings, it would also help save on carbon emissions."
He plans to ride his vehicle from Bangalore to Mumbai, before putting it on a boat to Iran. Picking up the journey on the Persian Gulf, he will ride to Turkey before crossing into Bulgaria and heading across Europe to the French port of Calais. He will be accompanied by Australian Raoul Kopacka who will document the journey.
The journey will not see Naveen travel through much of India. Any regrets about that? "Yes, to travel in India would be great with the response we have got after I have done my test runs in and around Bangalore. Before the major route, I have plans to travel in India. Let's see how it turns out," he says and signs off.