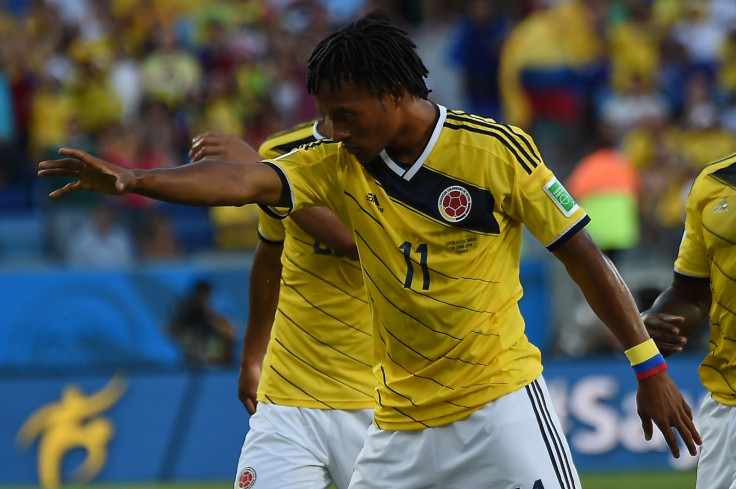 Chelsea must pay Juan Cuadrado's £26.1m release clause or consign themselves to missing out on signing the Colombia international, according to Fiorentina coach Vincenzo Montella.
Montella has confirmed talks between the Blues and Cuadrado are ongoing as the Premier League leaders look to get the deal completed before the transfer window deadline on 2 February.
And the Viola coach says that reports the Serie A club will accept no less than the 26-year-old's £26.1m (€35m) release clause are true and Chelsea must match the valuation to stand any chance of signing the player.
"Cuadrado is a fantastic player," Montella told Sky Sports. "The situation is very, very easy. In his contract there is an escape clause. If another team will pay this amount in this situation he can leave Fiorentina if he agrees. It's an easy situation.
"No, we have not spoken on this situation. I think probably with their manager, probably I don't know. His escape clause is €35m; only in this situation is it possible to buy Cuadrado.
"I read [about a loan move for Salah] in the newspaper but I don't know if it is true. He is a good player, a very interesting player, he's a winger and a good player.
"I hope he stays at Fiorentina of course but with my mind clear, he is enjoys playing, he's a good player and he will stay at Fiorentina.
"He has the characteristics to adapt to English football because he is fantastic transition and under [Jose] Mourinho it will be perfect."
Mourinho has continued to state Chelsea have no interest in signing Cuadrado or any player during the final week of the January transfer window but reports continue to circle regarding the club's interest.
Chelsea's movement during the final four days of the window are likely to be reactive to any departures, with Mohamed Salah and Andre Schurrle both having been linked with moves away this month.