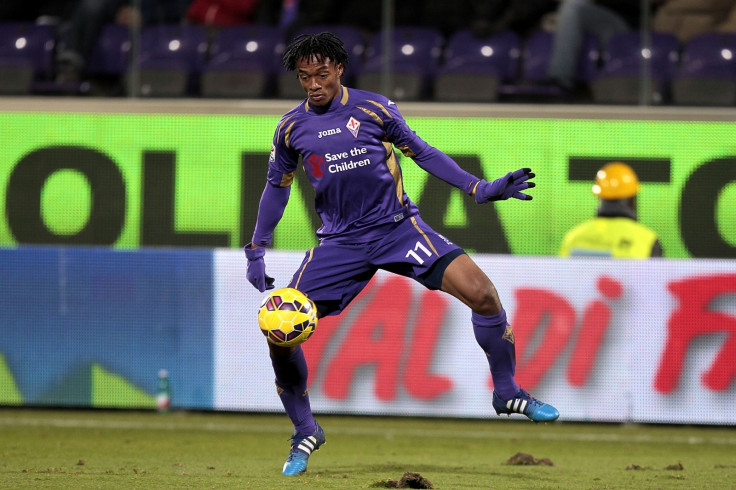 Fiorentina winger Juan Cuadrado has been seeking advice from former Manchester City defender and England international Micah Richards over life in the Premier League ahead of a reported move to Chelsea.
The Colombia international has been heavily linked with a move to Stamford Bridge in recent days, with latest reports suggesting the 26-year-old will move the Blues in the January transfer window should the club activate his €35m (£26.1m) release clause.
Odds for Cuadrado's next club following the January window to be Chelsea have also plummeted on Wednesday 28 January but time is running out for the English league leaders to clinch a deal for the World Cup hot shot.
Chelsea manager Jose Mourinho claims the club have no intention of signing Cuadrado or any player during the mid-season window unless a high-profile player leaves the club, however rumours refuse to abate.
And those reports regarding Chelsea's interest have been inflamed by Richards, who, after nine years in the English top flight is on loan at Fiorentina from City this season, says he has advised Cuadrado over life in the Premier League.
"After the World Cup he had a lot of teams looking at his situation and all the top teams in England are looking at him," he told Sky Sports. "They should be because in training every day he's got everything: technique, speed, power and pace.
"A lot of his attributes are suited to the Premier League, so I can see where that link is coming from. He's loved here at Fiorentina so if he was to leave, the fans would be gutted but I suppose as a player he has to decide what is best for him.
"He's been in the league for five or six years so if he feels like he needs that step in his career I would definitely give him advice on the Premier League because I am sure he would them.
"He's one of the players who has asked me [what England is like] and I just tell them and I tell them it's just real nice. The weather is not as nice as Italy but the football is good and if you could go there one day, it would be good."