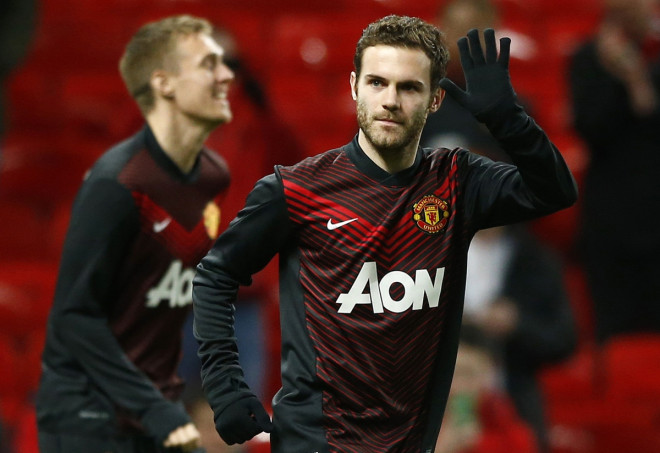 Juan Mata has told Manchester United manager David Moyes that he is not a winger as he eyes the number 10 role as his own.
The Spain international have made six appearances for the Premier League champions following his club record move from Chelsea but hasn't always had the opportunity to start through the middle as Moyes looks to find room for all of his attacking options.
In his last five games Mata has started in a slightly wider role on the right but he hopes his manager will soon hand him an influential role in his favoured position through the middle.
"Right now I am playing on the right but to be honest I don't see myself as a proper winger," Mata told BT Sport.
"I love to play between the lines as a No. 10, come inside, that is where I feel comfortable to play; to keep in touch with the ball because I love to play in possession and with the ball."
Mata carved his reputation in the Premier League playing in the hole under Andre Villas-Boas, Roberto Di Matteo and Rafa Benitez during his first two seasons at Chelsea when he won the club's player of the season award on successive occasions.
With Jose Mourinho favouring Brazilian Oscar in that role at Stamford Bridge this season, Mata moved to Old Trafford where he competes alongside Wayne Rooney, Adnan Januzaj and Shinji Kagawa for that spot.
25-year-old Mata has started just one game directly behind the striker since his move to Old Trafford; his debut in a 2-0 win over Cardiff City. But the Spain international understands the decisions that his manager is faced with on a weekly basis.
"When we talk about them (van Persie and Rooney), we are talking about two of the best strikers in the world," Mata said. "Wayne is one of the best in the history of England, for sure, and Robin is the captain of Holland, so it is an honour for me to try and assist them because almost every chance you create is a goal."