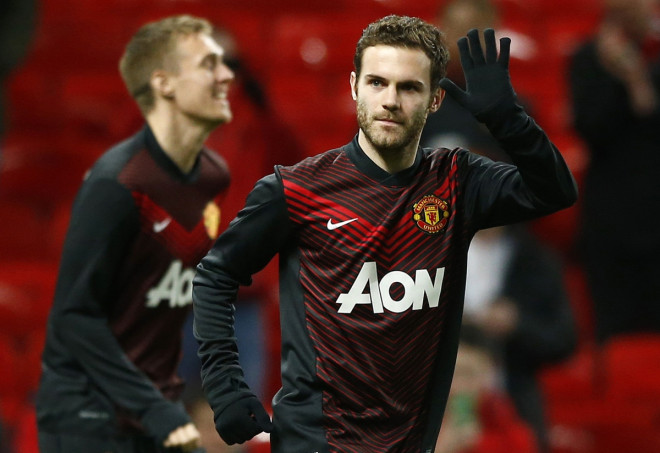 Juan Mata is grateful about Wayne Rooney's new contract at Manchester United claiming the striker "is a model player" for the Premier League holders.
The English international ended speculation about his future last week, by signing a four-year contract extension at Old Trafford reportedly worth £300,000 a week.
Mata, who joined United in the last January transfer window expressed his opinion about Rooney's new contract in his weekly blog at Spanish Online newspaper Grada 360.
"The game (against Crystal Palace) was special for Rooney after his recent contract extension, and he was very happy. He deserves it; he is a model player in this club and it's a privilege to have him with us now and in the coming years."
United secured a 2-0 victory against the London side in their latest Premier League game and Mata started his fifth game for his new club.
"These three points give us a lot of confidence. I think the team was solid and it was a clear victory. Me, personally, after five games with the team I feel there is more and more understanding with my team-mates on the pitch. The truth is, with a squad of such quality everything is easier."
David Moyes' side face Olympiakos on Tuesday in the first-leg of the Champions League last 16 but Mata will not feature, as he already played in the competition for Chelsea earlier this season.
"Today my team-mates are packing for the trip to Athens, but I can't go with them so I'll stay in Manchester and support them from home. As you know, since I played the group stage with Chelsea I can't participate in the same competition with my new team," Mata added.
"It's a shame because a Champions League match is always special and I keep good memories of this tournament that I was able to win just a couple of seasons ago. I have noticed that my team-mates are very excited about going through little by little. I hope we can do it."
Mata is familiar with Olympiakos, as he was coached by manager Michel during his time at Real Madrid's second team, and he has alerted his team-mates about their potential.
"I'll be supporting United from here as any other fan. At Karaiskakis, the team will face a tough opponent: Olympiakos are both the leaders and the reigning champions in Greece. Mitroglou - their goal scorer- and Weiss left the club in January, but they have signed two good players such as Valdez and Hernán Pérez," the Spaniard said.
"Olympiakos have a Spanish flavour with several players having featured in la Liga before; Roberto, Saviola, Chori, David Fuster and Joel Campbell. And the same can be said about the staff, the manager is Míchel, whom I met in Real Madrid Castilla. I'll bite my nails nervously watching the game on telly. I will feel the same as you," Mata added.