Chelsea playmaker Juan Mata is close to agreeing a new deal at Stamford Bridge, according to multiple reports. It is believed the Europa League champions are concerned over the growing number of rival clubs linked to the Spain international.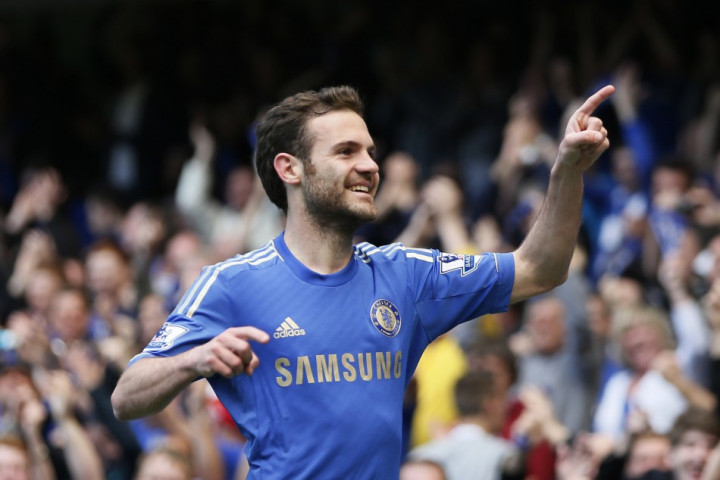 The 25-year-old is contracted to Stamford Bridge till 2016 which means, theoretically at least, Roman Abramovich can afford to wait for at least 12 months more before opening talks. However, given the pressure that star player and their agents can bring to bear on clubs, the value of long-term contracts appears to be diminishing.
ESPN believes Chelsea want Mata to re-sign till 2018 and are willing to raise his present £70,000 wage to £100,000, to reflect his status within the first team.
Mata joined Chelsea in 2011, after the Blues paid La Liga club Valencia £23.5m, according to the BBC. Since then, the left-footed attacking player has made over 100 appearances for the club, scoring 31 goals and creating 48 more. The Spaniard finished the 2012/13 Premier League campaign with 12 goals and as many assists from 31 starts.
However, despite his obvious importance to the team, Mata's availability was mooted and promptly Spanish champions Barcelona were linked to the player.
Further confusion was created when speculation suggested Chelsea would offer Premier League champions Manchester United their choice of Mata or Brazilian centre-back David Luiz, in exchange for England striker Wayne Rooney.
Both situations have now been ruled out, with Chelsea boss Jose Mourinho clear about Mata's importance and the club formally denying the inclusion of either Mata or Luiz in a bid for Rooney.
Meanwhile, it is also understood that Mata and Brazilian midfielder Oscar are personal favourites of Abramovich, meaning there is almost no chance either will be available for transfer.
Victor Moses Returns to the Fold
Nigeria winger Victor Moses has returned to first team duty, after recovering from a late-season injury. The 22-year-old was ruled out of his country's participation in the 2013 FIFA Confederations Cup but he has told the club's website he is now fit and ready to play.
The former Wigan Athletic man may play some part in the Blues' final game of the pre-season Asia Tour; Chelsea face BNI Indonesia All Stars on Thursday evening.
"I'm delighted to be here, working hard and getting as fit as possible for the new season. It's my first Chelsea tour and it's been a good experience for me with the club," Moses said.