Pussy Riot: Women Still a Potent Force, Says Feminist Art Founder Judy Chicago
Judy Chicago talks to IBTimes UK about the state of radical art and the challenges punk feminist band pose to Russian bigotry
The founder of Feminist Art, Judy Chicago, who has influenced women artists over five decades, holds a clear view of the Pussy Riot punk collective.
"Their performance was sweet, naive and admirable in a society like Russia, where even mild dissent is put down with an iron fist," she told the IBTimes UK in an exclusive interview ahead of her November 2012 series of exhibitions and events in the UK.
Three members of the punk band were each sentenced to two years in jail for performing an anti-Putin song in Moscow's Christ the Saviour Cathedral in a "feminist attempt to take Russia from the Middle Ages to the modern era".
Unsurprisingly, the startling history of Judy Chicago, who founded the first feminist art programme at Cal State University, Fresno, shares many similarities with the Pussy Riot saga.
"Pussy Riot's activities hearken back to the 1970s when - for example - I and my students from the Fresno programme - were attacked on stage by threatened men who were outraged that we were trying to challenge the male-dominated art world," says Chicago.
A member of Pussy Riot, Nadezhda Tolokonnikova, was in the Voina art group along with her husband, the street artist Pyotr Verzilov. Their art collective staged numerous incendiary performances such as an orgy in a biology museum to parody then-President Dmitry Medvedev's plans to boost the birth rate, and a giant penis painted on a drawbridge in St Petersburg.
Voina, the Russian avant-garde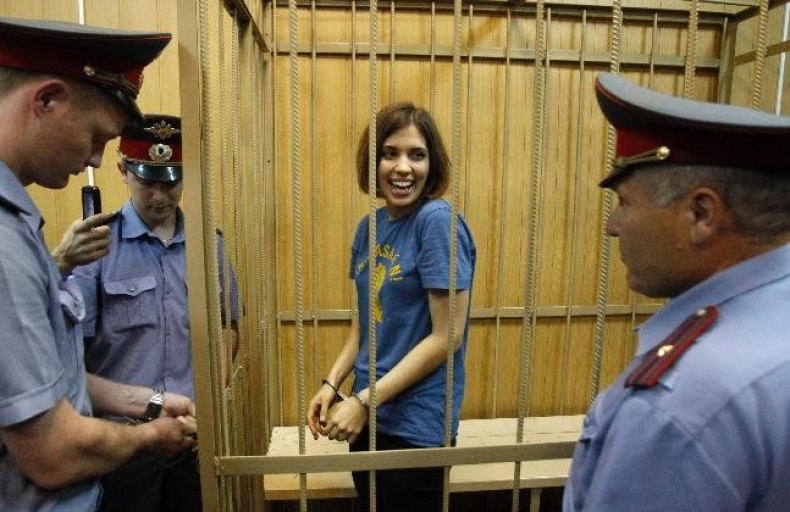 Voina has been the symbol of the Russian avant-garde for some time, stirring power and bigotry with creative protests that blended together art and activism. Their thought-provoking iconoclasm aimed at overturning the symbols of sexual oppression with wit and intelligence.
The collusion between church and state in Russia, which forward thinkers have already likened to a new form of byzantine Caesaropapism, reached new heights when Patriarch Kirill christened the Putin era "a miracle of God".
"We must move away from the primitive notion of separation between church and state," Putin said in response.
Pussy Riot's "punk prayer" on the main altar of Moscow's Christ the Saviour Cathedral was more than just a simple defacement, a harmless act of buffoonery, a naïve and, after all, forgivable performance of mindless singing.
Despite some top clerics calling for mercy, those who truly hold power in the Orthodox Church are perfectly aware that the performance was a Molotov cocktail in the heart of modern Russian's marriage of power and corruption.
Predicting a tidal wave of change in the deeply chauvinistic and bigoted Russian society, the anti-Putin song demonstrated that real feminist agitation "is still a potent force", says Chicago.
Pussy Riot draws its name from the Riot grrrl punk rock movement based on feminisim that grew up in the US in the early 1990s. Pussy's trademark, the colourful balaclavas, is a throwback to the masked Guerrilla Girls back in the 1980s, another radical feminist collective.
However, "Pussy Riot is in jail and the Guerrilla Girls are in the Museum of Modern Art," points out Chicago.
Guerrilla Girls wore masks as "a conceit", intended to make sure their agit-prop activities did not negatively affect their careers, whereas in Russia "there was a real reason for them to try and disguise their identities".
"Pussy Riot's choice of where to stage their protest was smart. It is obvious they touched a very big nerve," she says.
The birth of Feminist Art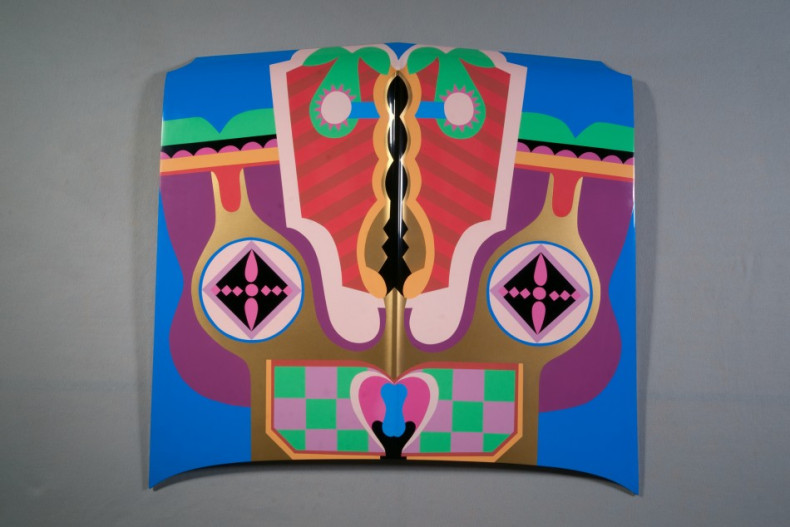 Judy Chicago mothered the first feminist art programme in the world at Cal State. The aim was to help young women become artists "without having to hide or deny their gender as I had been forced to do in order to be taken seriously in the LA art scene of the 1960s".
"The influence of the feminist art programmes has been widespread and not yet fully measured," the 73-year-old artist says.
Since the Fresno programme launched, feminist art - a term that did not even exist before Judy Chicago - spread around the globe despite continuous criticism by major museums and institutions unwilling to integrate women's history and feminist art into mainstream, male-dominated exhibitions.
"As a result, generation after generation of young people grow up without knowing these important histories," Chicago claims.
"I would hazard that this is the case for Pussy Riot, as it has been for artists like Tracey Emin, who inherit the benefits of this history without understanding that their freedom is built upon it."
The Dinner Party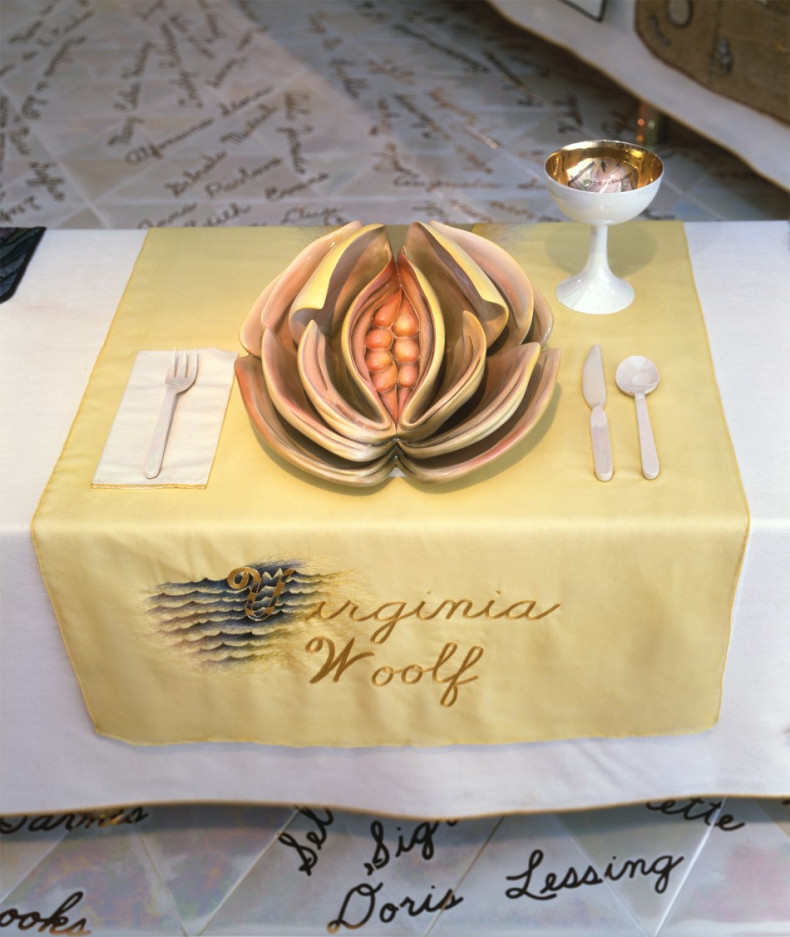 One of her autumn exhibitions, Deflowered at Riflemaker in London, opening November 12, will feature the test plate and "runner drawing" for The Dinner Party, a massive ceremonial banquet laid on a triangular table 48ft on each side. The installation, which represents 1,038 women in history, has been on permanent exhibition at the Elizabeth A Sackler Center for Feminist Art at the Brooklyn Museum in New York since 2007.
The genesis of the installation dates back to the undergraduate years of the artist at UCLA. "At the first session, the professor promised to discuss women's contributions at the last class. I waited all semester and when the final meeting took place, he said: 'Women's contributions: they made none'," she said.
After battling the "macho LA art scene", Judy Chicago decided to create a work of art that would convey a different take on history, before gender and women studies gained momentum at university. That is when The Dinner Party, a symbolic history of women in Western civilisation, was conceived.
Judy Chicago has always explored a broad range of media in her work - including "traditional female arts" such as embroidery, quilting and needlework - and used them in an atypical way. The UK exhibitions will include examples of many of the techniques used by the artist such as the Song of Songs (which combines lithography and helio-relief) at The Black-E gallery in Liverpool; sprayed automotive lacquer, plastics, ceramics, china painting and glass at Riflemaker; and a variety of works on paper and needlework at Ben Uri.
UK exhibitions and events:
November 8 Opening of the Voices from The Song of Songs, a series of six paired prints with accompanying documentation, plus the publication of Women, Art, and Society: A Tribute to Virginia Woolf by Judy Chicago - originally delivered as an illustrated lecture in 1982.
November 12 Opening of the Deflowered exhibition at Riflemaker, London, which will include works from 1963-71 including the iconic Car Hood sets along with works in plastics, ceramics and glass, demonstrating the artist's broad range of technical and aesthetic skills.
November 13 Opening of the Judy Chicago exhibition at the Ben Uri, the London Jewish Museum of Art, which will include intimate works on paper, set in a historic context.
November 14: Whitechapel Art Gallery, Judy Chicago in conversation with Frances Borzello and Andrew Perchuk.