A Russian court has found three members of the feminist punk band Pussy Riot guilty of hooliganism motivated by religious hatred or hostility.
Pussy Riot "crudely undermined public order and deeply disturbed feelings of Orthodox believers," the judge said in passing sentence.
He also claimed that the members of the punk band engaged in "homosexual propaganda".
The three members of the band - Nadezhda Tolokonnikova, Yekaterina Samutsevich and Maria Alyokhina - were tried in a Moscow court over their "punk prayer" protest song against Vladimir Putin in Moscow's Christ the Saviour Cathedral.
Sentences have not yet been handed down.
Russian opposition leader Sergei Udaltsov was detained after arriving at Moscow court ahead of the verdict and global chess champion Garry Kasparov was manhandled and allegedly beaten up by police during protests outside the courthouse.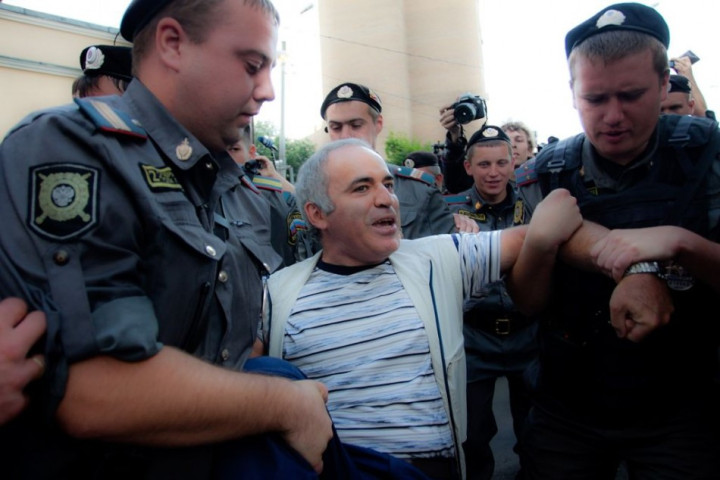 Protests in support of the band have been organised across Russia and the world. In Moscow, followers of the group dressed some of the city's statues with colourful balaclavas, the collective's trademark.
Masked protesters have clashed with security forces outside Moscow's main cathedral.
In an open statement to the court, Pussy Riot member Maria Alyokhina said they considered themselves "representatives of our generation".
"It is important for me to understand whether the church is growing along with society or whether it remains a conservative institution. In the search for an answer, I did not expect a repressive and inquisition-like reaction."
Another Pussy Riot member, Nadezhda Tolokonnikova, warned that that the trial was a sign that freedom was disappearing in Putin's Russia
"Our being in jail is a clear and distinct sign that freedom is being taken away from the whole country," she wrote in a letter to her supporters. "And this threat of destruction of the liberating, emancipatory forces of Russia is what makes me angry."
Chronology of a global phenomenon
The Pussy Riot collective was formed in 2011 after Putin announced his intention to run again for presidency. The name was a reference to the Riot Grrrl movement that grew in the US in the early 1990s, based on feminism. A total of 15 members took part in Pussy Riot, motivated by anger at Russia's lack of freedom and democracy.
In an interview with German magazine Der Spiegel, Pyotr Verzilov, husband of Tolokonnikova and a street performance artist, revealed that the three women did not expect to be arrested for the punk prayer.
"Neither during the concert nor the performance in the church did anyone think that anything could happen," he said.
"They didn't do anything criminal. Any honest lawyer in Russia will say the same thing. Pussy Riot believed that the worst it could get was a fine of 1,500 rubles, which is about €40."
Tolokonnikova with her husband Verzilov were members of Voiuna, a radical art collective that caused outrage in Russia with their performances in police cars were overturned, a "protest orgy" was staged at the State Biology Museum in Moscow and a massive phallus was painted on a bridge in St Petersburg.
"Art is politics," said Tolokonnikova once. "We couldn't imagine ourselves without one or the other. We don't understand how an artist can think about society but say he's apolitical."