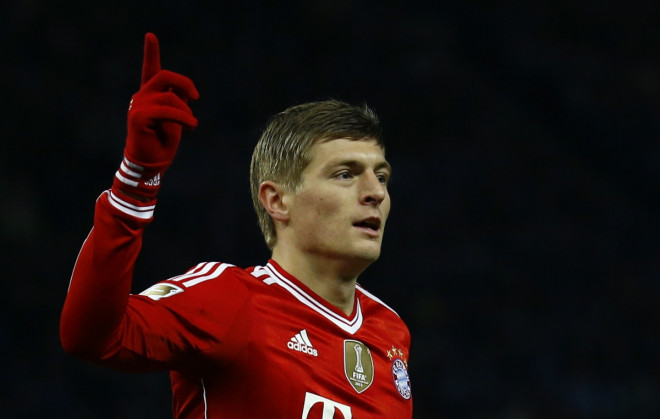 Bayern Munich's treble winning manager Jupp Heynckes has urged Toni Kroos to reject a chance to join Manchester United and extend his stay at Allianz Arena.
The German international has long been linked with a move to Old Trafford as David Moyes was keen on signing him in January. No deal took place as Kroos continued with the Bundesliga champions.
However, United's failure in the mid-season transfer window has not stopped the Red Devils from making an approach for the Bayern star in the summer. Moyes is reportedly preparing another bid in bringing the German midfielder to the club at the end of the season.
Kroos' contract at Allianz Arena comes to an end at the end of the next season. He has turned down the chance to sign a new deal, which has seen him being linked with a move away from the club in the coming transfer window.
The former Bayern manager revealed that he keeps regular contact with Kroos and has urged him to accept a "good offer" from the reigning European champions.
"I spoke with Toni. If he takes my words seriously, he will stay. A team like Bayern are not currently available in Europe," the Express quoted Heynckes as saying.
"He would be well advised to extend. At present he has a good offer from Bayern. Toni knows also. I hope that his advisor also knows."
Meanwhile, former United midfielder David McCreery believes Jonny Evans will be a regular figure in the heart of the Red Devils' back four for a long time.
"Jonny will definitely be in that defence for a long time, and especially for Northern Ireland as well, it's just that he has had a few injuries," McCreery told United's official website.
"He's gained that experience by playing at a young age at United and experienced winning things too. I think United could do with him coming back as quickly as possible."
"With Nemanja Vidic leaving, the club needs a good balanced partnership to start next season. Jonny can be part of that and he's got leadership qualities. He's the type of lad who you think is quiet off the pitch but, once he gets on the field, he changes. And he's a lovely lad," he added.