Jurgen Klopp has made it clear that his relationship with Philippe Coutinho remains intact and that he will welcome the Brazilian back to the first-team squad – once he recovers from injury and illness - with open arms despite the player wanting a move away from Liverpool this summer.
Coutinho handed in an official transfer request after it became clear that Barcelona were keen to sign him, but it has been rejected by the Reds, who are desperate to keep him at the club beyond the summer.
The Catalans have made three bids thus far with the latest being around £114m ($146m), but all their efforts have been rebuffed by Liverpool, who are adamant that Coutinho is not for sale. Klopp recently revealed that the Brazil international's future is at the hands of the club and will be hoping that Coutinho returns to the first-team fold in the near future.
Liverpool are two games into their Premier League season and face Hoffenheim in the second leg of their Champions League playoff clash on Wednesday and Coutinho has missed all the games thus far due to a back injury. Klopp has now revealed that the attacking midfielder is also ill along with his injury and admitted that it will take him a while to return to action owing to his lack of training in recent weeks.
"Of course (I would welcome Coutinho back)," Klopp said, as quoted by the Liverpool Echo. "You asked is everything okay between us? I answered with of course. Yes, indeed, absolutely, 100%.
"He can't [start training tomorrow] because on top [of the injury] he is now ill. One other player [was also ill] but with him it was not that serious so he was back in training today," the German coach was quoted as saying by Liverpool's official site, ahead of their game against the Bundesliga side.
"If [Coutinho] would start [training] tomorrow it would take time because he has no training for a long time. [I have] no idea in this moment. We would have to check in the moment when he is back."
Barcelona, however, are not willing to give up their chase to bring Coutinho to the Nou Camp and according to Sky Sports, they are planning a fourth bid for the Brazilian. The Spanish club are looking for replacements for Neymar, who joined Paris Saint-Germain earlier in the month, while they also consider the Liverpool midfielder a perfect long-term replacement for Andres Iniests, who is in the final year of his contract.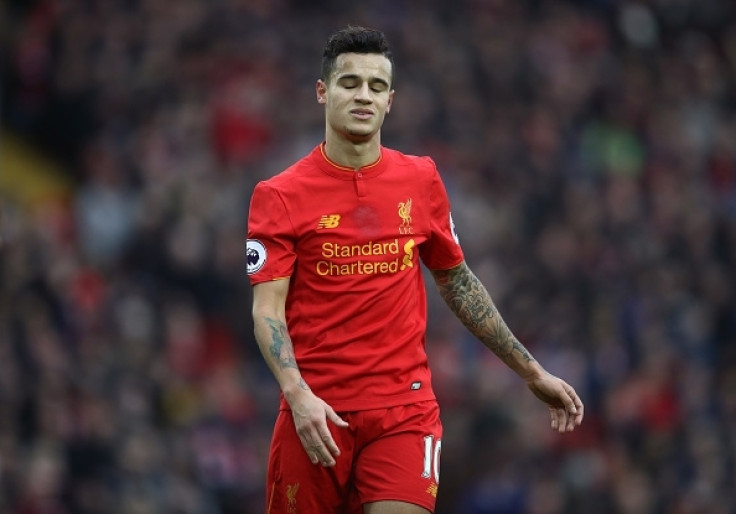 The Catalan giants' latest bid is expected to be around £138m with £101m being paid upfront and the rest of the fee being paid as performance-related bonuses. Citing sources in Spain, the Sky report suggests that Barcelona have no intention of giving up the chase and are determined to get the deal over the line before deadline day (31 August).