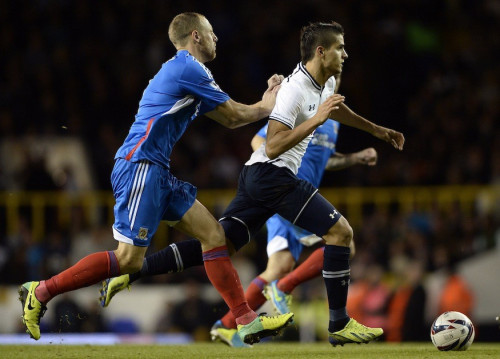 Juventus have decided to wait until the summer to make a serious play for Erik Lamela with Tottenham holding firm this month, reports in Italy claim.
Lamela was one of three players to break Spurs' transfer record last summer and he became the most expensive player in the history of the club as he moved from Roma to White Hart Lane.
So far though the 21-year-old has failed to settle in with the north London club and after Andre Villas-Boas was ousted from the managerial position in December his fortunes have not changed for the better under Tim Sherwood.
Multiple Italian clubs have shown an interest in Lamela and a loan to Inter Milan or Atletico Madrid was believed to have been lined up for the rest of the season but the Spurs head coach blocked such a move.
And now Gazzetta Dello Sport are claiming that Juventus are willing to wait until the summer to pounce, when they believe they will have a much better chance of convincing Sherwood to let go of the Argentine.
While Lamela speaks both Spanish and Italian the winger, who was believed to be a possible replacement for Gareth Bale when he first arrived at Tottenham, has had trouble communicating in English since his move to the Premier League.
His agent has insisted that this is the reason the young star is taking so long to settle but reports have been rife suggesting he would jump at the chance to head back into the Serie A.
While Tottenham can only offer the possibility of Champions League football at this stage Juventus are favourites to win the Scudetto. Roma have also mounted a decent challenge for the title this season and Lamela may have been left regretting his decision.
Sherwood insisted that Lamela is still wanted at Tottenham, telling reporters: "We know what a talent he is. Players need time to settle.
"He doesn't speak English and is still feeling fatigued in one of his thighs. He won't be leaving on loan in this transfer window."
But in the summer, should Juventus push for a deal and Lamela show his intention to leave the manager's hand might be forced.