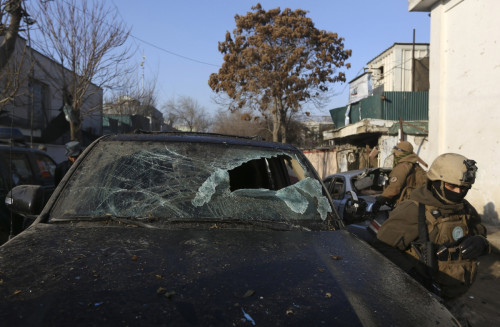 A deadly suicide blast in a restaurant in the Afghan capital Kabul has killed at least 21 people including an IMF official and four UN staff members, authorities have said.
Two Britons, two Canadians, a Lebanese and Afghan nationals were also killed in the attack.
The explosion took place after a suicide bomber blew himself up in a well-known Lebanese restaurant.
The Islamist militant group Taliban has claimed responsibility for the attack at the upmarket Wazir Akbar Khan district. The area is home to many foreign offices and is frequented by expatriates.
"Such targeted attacks against civilians are completely unacceptable and are in flagrant breach of international humanitarian law," said UN Secretary General Ban Ki-moon.
IMF chief Christine Lagarde has confirmed that the head of the Fund's Afghan office Wabel Abdallah was among the dead. Abdallah, 60, a Lebanese had been working as the IMF's representative in the war-torn country since 2008.
Condemning the attack, Lagarde said: "This is tragic news, and we at the fund are all devastated. Our hearts go out to Wabel's family and friends, as well as the other victims of this attack."
Three suicide bombers are believed to have been involved in the attack, of which two were shot dead by police while the other detonated.
An Afghan security source told Reuters: "First there was a suicide attack near a restaurant for foreigners where a man detonated his explosives attached to his body, and then possibly one or two insurgents entered the restaurant."
Intense gunfire is also thought to have taken place following the suicide blast.
"There was a suicide attack on a foreign hotel where special foreign invaders are coming for dinner. In this attack an explosive was used which was very strong and heavy casualties and massive destruction happened," said Taliban spokesperson Zabibullah Mujahid.