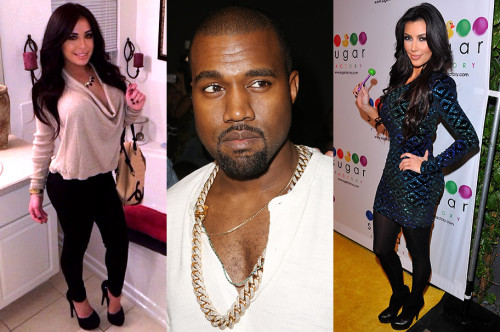 Kanye West has rubbished reports that he cheated on his fiancé Kim Kardashian.
The Yeezus rapper was accused of stepping out on the reality star with Gabriella Amore, a deadringer for his other half.
Celebrity news site TabRag claimed that West was spotted hooking up with Amore at The Dream hotel in Miami, Florida in early January.
According to an unidentified eyewitness, the duo were seen together twice in two days and were behaving sheepishly.
"I was in Miami a few weeks ago staying in The Dream Hotel and I swear I saw Kanye West with who at first I thought was Kim, until I got a little closer," the woman told the site.
"It was definitely not Kim...resembled her, but not Kim.
"They then both disappeared into the elevator, he looked like he was trying to keep a low profile, wearing sunglasses.'
The woman added: "I had to find out who this girl was. She looked so familiar. I'm almost 100% sure this is her...found her Instagram. It's Gabriella Amore; Kanye West definitely has a type!"
West, who has an eight-month-old daughter with the Keeping Up With the Kardashians star, has since slammed the report as completely false.
"It's ridiculous," a rep for the 36-year-old hip hop star told Radar Online. "Kanye was never even in Miami during this period. He was on vacation with his family."
This is not the first time that the superstar couple have been hit with a cheating scandal.
Back in June 2013, Canadian model Leyla Ghobadi alleged that she had fling with West while Kardashian was pregnant.
She said that the Watch The Throne hitmaker had told her that his relationship with the curvy star was nothing but a publicity stunt.
"This is going to destroy the Kardashian family. It's bad. It's really bad," Ghobadi said at the time. "It's just embarrassing. But if I were Kim and about to have a baby, I would want to know."