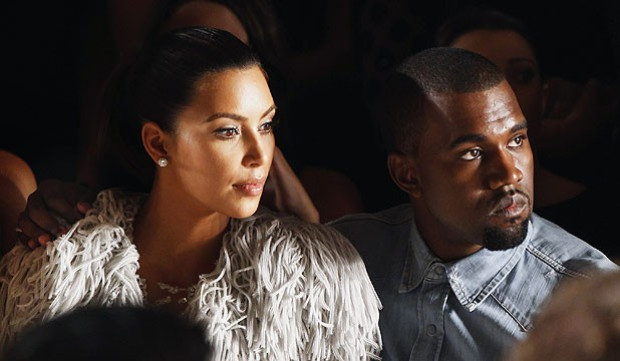 Kanye West has declared that his fiancée Kim Kardashian is more influential than President Obama's wife and deserves to be on the front cover of Vogue magazine.
The rapper, who is set to marry the reality star, claimed that his future wife's status had surpassed that of first lady Michelle Obama during a recent appearance on the Ryan Seacrest radio show.
"There's no way Kim Kardashian shouldn't be on the cover of Vogue. She's like the most intriguing woman right now. She's got Barbara Walters calling her like everyday," he said.
"And collectively, we're the most influential with clothing. No one is looking at what [President Barack Obama] is wearing," he said.
Referencing the now iconic snap that Kardashian posted of her post-baby body in a white swimsuit he added: "Michelle Obama cannot Instagram a pic like what my girl Instagrammed the other day."
West has not been a fan of President Obama and his family since 2009.
In the wake of West's MTV VMA debacle with Taylor Swift, the US leader famously called the hip hop star West a "jackass". Michelle also revealed that her husband does not approve of Kardashian's reality show.
But according to the Yeezus hitmaker, mainstream fashion magazines like Vogue should not be classist towards reality TV stars. He credited former French Vogue editor Carine Roitfeld for going against the grain and putting Kardashian, 33, on the cover of her eponymous CR Fashion Book.
"Carine Roitfeld supports my girl. That's a breakthrough. There's a wall of classism that we are breaking through," he said.
"My concern is doing God's work, and he'll work everything else out."
West popped the question to Keeping Up with the Kardashians on her 33rd birthday at San Francisco's AT&T Park. He presented her with flawless 15-carat diamond ring designed by jeweller Lorraine Schwartz.
"I was nervous," he admitted. " I was talking to her cousin. I was like, 'I don't know, what do you think she's going to say?
"I'm not arrogant about love and feelings at all. I'm confident in the work I put so much work into, but this is someone else's feelings. You never know what someone else may feel at the time.
"I just knew I wanted her to be my girl for a long time," he said. "I remember I saw a picture of her and Paris Hilton, and I remember telling my boy, 'Have you seen that girl Kim Kar-dijon?'"