The Duchess of Cambridge Kate Middleton has joined the Queen and other members of the royal family in paying her respects to the war dead at a poignant two-minute silence for Remembrance Sunday.
The service, held at London's Cenotaph, drew past and present national leaders including former Prime Ministers Tony Blair and David Cameron, current incumbent Theresa May, and present Labour leader Jeremy Corbyn, in attendance.
The memorial saw 750 armed forces personnel march around the memorial, as Kate watched with sombre intent alongside other royals from the balcony of the Foreign and Commonwealth Office.
Dressed all in black, the Duchess of Cambridge also looked on as the Queen and Prince Phillip, the Duke of Edinburgh, each lay a wreath of poppies.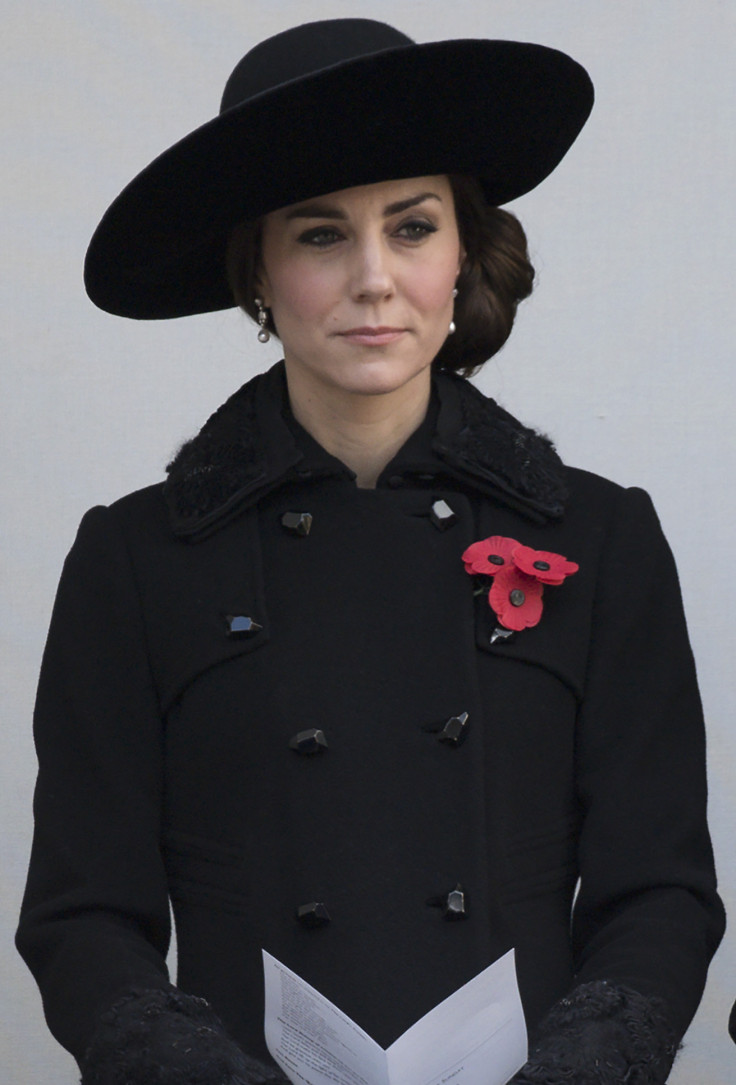 Heir to the throne Prince of Wales Charles followed suit. The 67-year-old also took the salute at the march of veteran and civilian organisations on Horse Guards Parade.
His sons, Prince Harry and Prince William observed silently in full military attire. There was no sign of Harry's new girlfriend Meghan Markle, who is thought to have remained behind at Kensington Palace.
Kate previously caused controversy after being photographed nonchalantly twirling her hair at the event in 2013.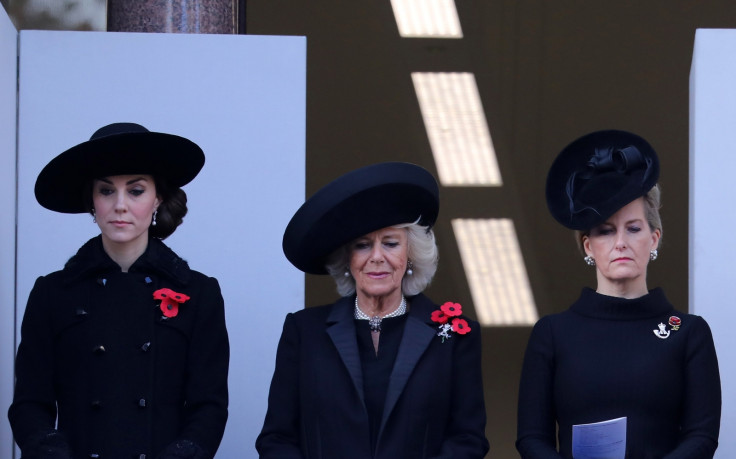 But there was no sign of such behaviour this time around as Kate, 34, kept her emotions in check. She wore a Diane von Furstenberg coat, her hair held back respectfully beneath a stylish wide-brimmed black hat and minimal make-up, aside from some black eyeliner for definition. Pearl drop earrings added peaceful colour to her costume.
Sophie, the Countess of Wessex, could not help but shed a tear, however as she stood alongside Camilla, the Duchess of Cornwall.
The ceremony comes the morning after the Duchess of Cambridge attended the Festival of Remembrance with husband Prince William at The Royal Albert Hall.