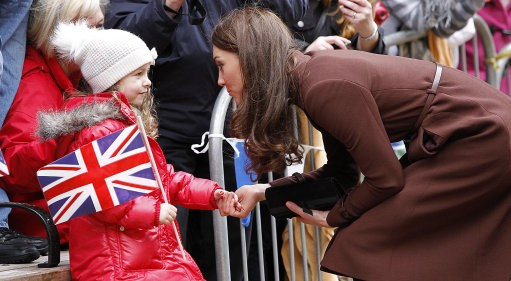 Crowds gathered to cheer and wave flags, as Kate Middleton, the Duchess of Cambridge, arrived in Liverpool on Tuesday.
This will be the Duchess' first Valentine's Day as a member of the British Royal Family. Unfortunately for her, Prince William, her husband, is 8,000 miles away... on a six-week tour of duty in the Falkland Islands, as a RAF search-and-rescue pilot.
According to a report by the Associated Press, the 30-year-old Duchess was carrying out a solo visit to Liverpool to visit a charity that helps addicts with alcohol and drug-related problems.
Upon her arrival in Liverpool, in what was a touching moment, Jaqson Johnston-Lynch, 8, whose mother works at the charity, presented a card and a bouquet of red roses to Kate. Jaqson has been quoted by AP as saying he wished Kate on Valentine's Day.
"Happy Valentine's Day, your Royal Highness. I'm sorry Prince William can't be here," said Jaqson.
Wrapped up in a burgundy-colored woolen coat that came to below her knee, with black high-heeled shoes, black tights and holding a black handbag, Kate smiled at the dozens of people gathered at The Brink, a dry bar run by the Action on Addiction Charity. She shook hands with staff members as well as meeting with community leaders.
Moreover, she, along with the resident choir at The Brink, sang a traditional American Indian song - "Wings Of A Dove".
"It's a bit scary with a royal audience but this is what the choir has done for me, to give me the confidence to sing in front of people. Everybody has been excited here for weeks because of the royal visit, that something this good is happening here," Michael Edwards, 32, a member of the choir from Kensington, Liverpool, has been quoted as saying by the Press Association.