Two ex-HTC employees have launched their new smartphone brand, with London-based Kazam today announcing seven new smartphones.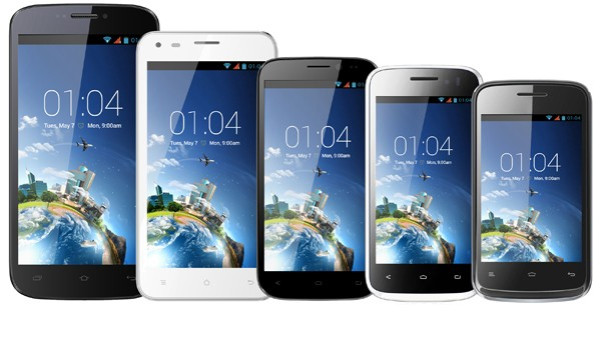 Launching a smartphone brand from scratch in the current highly-competitive market may seem like a crazy thing to do, but that is just what a pair of ex-HTC employees has done.
On Tuesday, Kazam has launched seven new Android smartphones, hoping that a range of features such as dual-SIM card slots and free replacement of your smartphone screen will be enough to convince customers to buy one of its phones.
Kazam is based in offices in London's Mayfair but has a 50-strong R&D team based in China where the company's smartphones are designed and built.
"Today's announcement proves that Kazam is not about gimmicks or corporate bulls**t, but delivering real value, by taking a fresh approach to mobile. It is not enough to simply stand for one thing, Kazam must continue to invest in areas often over looked, posing difficult questions and challenging convention," said James Atkins one of the co-foudners at Kazam.
The company claims it will be able to challenge the big guns like Apple and Samsung by focusing on "quality, relevant technology, and disruptive pricing."
Pricing
However Kazam has yet to announce specific pricing or UK release date for the new range of phones, simply saying pricing "will be announced in line with consumer availability." A spokesperson added: "[Kazam's] pricing strategy is focused on delivering value to people and they are committed to disrupting the industry standard."
Initially Kazam planned on only selling the phones SIM-free through its website but the company is now in discussion with retailers, distributors and mobile phone networks with discussions "bearing fruit" and Kazam phones will likely go on sale on a SIM-free, pay-as-you-go and contract basis
The company is also pinning its hopes on a number of more unique features which all phones in the Trooper and Thunder ranges will offer. All phones will offer dual-SIM card slots, a replaceable battery and a screen replacement scheme which will allow owners to replace a smashed smartphone screen once during the first 12 months of ownership.
The company is also offering a service called Rescue which will give the company's support staff remote access to your phone to help solve any problems you might have. It is a similar service to the one Amazon introduced on its latest Kindle Fire tablets called Mayday.
Thunder and Trooper
The seven phones which have been announced are split between two ranges - Thunder and Trooper. The former is the more premium range and features two smartphones: the Thunder Q4.5 and the Thunder Q5.0.
While these are pitched as the company's premium devices, the specs reveal that compared to high-end smartphones like the iPhone and Galaxy S4, they fall some way short.
The Q4.5 screen for example has a resolution of just 480 x 854 pixels, giving it a pixel density of 217 pixels per inch (ppi), some way short of the cutting edge screens on the likes of the HTC One which has a pixel density of over 400ppi.
While pricing has yet to be announced, with specs like these we suspect the Thunder range will not be as expensive as an iPhone or HTC One.
The Trooper range features five smartphones ranging in screen size from 3.5in to 5.5in with all running Android 4.2 (Jelly Bean) which is now two generations out of date with Google having launched Android 4.4 just last week.
Frustrated
James Atkins and Mike Coombes announced in June they were planning on launching Kazam as a range of smartphones focusing on the European market. Atkins and Coombes both left HTC in March where they were head of marketing for the UK and Ireland, and head of sales respectively.
When asked why he and Coombes left HTC, Atkins told IBTimes UK in August:
"It's not to say we got frustrated with the industry, but we started to question the way things were being done and like we all do, [we] would occasionally have a conversation about how we would do it differently."
Up-hill struggle
To say Kazam faces an up-hill task to compete in the smartphone world would be an understatement, but Atkins claims he is very aware of the challenges ahead:
"It is a bold move and we recognise that. We are not deluded, we recognise that we are not going to open the order book and have to hold back the hordes of people. We are going to have to stand out, we are going to have to be different."