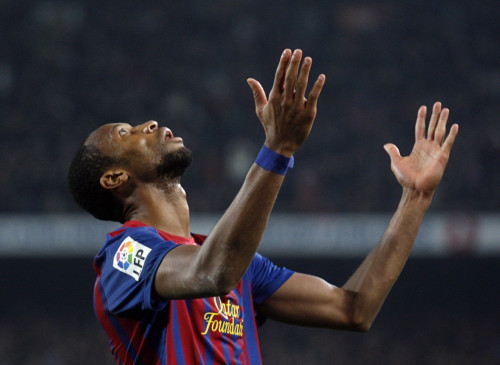 Former Barcelona midfielder Seydou Keita has revealed he was close to signing for Liverpool during the last transfer window but finally decided to turn down the Reds for a move to Valencia because he wanted to return to La Liga.
The 34-year-old defensive midfielder was a pivotal player during Barcelona's glory years, helping them to victories in two Champions League and three La Liga finals before moving to Chinese side Dalian Aerbin, where he has spent the last 18 months, scoring 10 goals in 41 appearances.
Although at 34, it looks like his best playing days are behind him, a number of big European clubs approached him in recent months before he finally opted to return to La Liga.
Nevertheless, during his official presentation as a new member of the Valencia squad on Monday the Malian international revealed that he turned down an offer from the Merseyside club.
"I'm happy, when Valencia called me, I didn't think twice. Things were advancing with Liverpool...but when things with Valencia came up, I gave the go ahead, I didn't have to think about it, they are a great club, I know the language, they play a style of football I like and the stadium is great.
"I had contact with teams from Dubai, Qatar and Turkey. I was in very advanced talks with Liverpool, but Valencia came and I have more chances to play, when all you want is to play and enjoy a high level and I can still play at that level. At Liverpool, I wasn't sure what would happen. When you speak to managers and directors you sense confidence, that's why I chose Valencia."
Liverpool did not make any additions to their squad during the January transfer window although manager Brendan Rodgers was keen to buy until deadline day. Apart from Keita, they were linked with new Chelsea winger Mohamed Salah and Dnipro's Yevehn Konoplyanka but both deals collapsed.