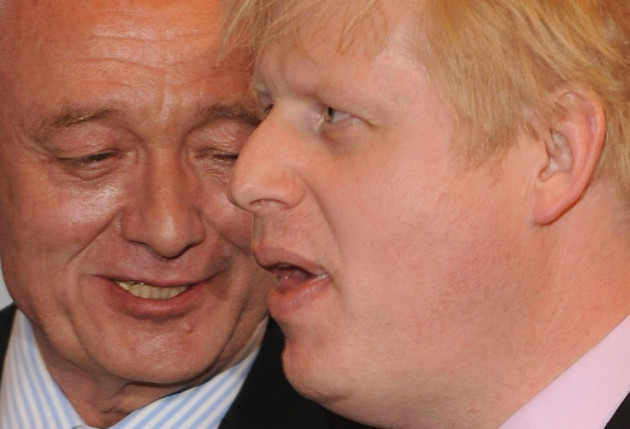 London's Conservative mayor Boris Johnson has reportedly called his Labour rival Ken Livingstone "a f*****g liar" in a fiery clash between the pair after a radio debate.
"Red with rage" Johnson was "nose to nose" in a lift with Livingstone after they took part in a hustings debate on LBC Radio in London ahead of the capital's mayoral elections on 3 May.
The fracas was revealed by ITV's political correspondent Simon Harris.
They clashed after a row over Johnson's tax affairs, when Livingstone accused Johnson of setting up a company and filtering his income through it in order to pay less tax - something Johnson furiously denies.
He is alleged to have shouted "it's all f*****g lies" twice at Livingstone when the two men squared up in a lift after their radio appearance with two other London mayoral candidates, the Liberal Democrat Brian Paddick and the Greens' Jenny Jones.
Livingstone has himself been accused of avoiding tax by funnelling his earnings through his company, Silveta Ltd, so he paid 20 percent corporation tax rather than 50 percent income tax.
The Labour candidate, who was mayor from 2000-2008 before losing to Johnson, denies he was trying to avoid income tax and instead used the company to pay the earnings of people he employed - not for personal financial gain.
When a caller to LBC Radio challenged Livingstone over his tax arrangements, Livingstone said that Johnson had been doing the same thing through a company called the Finland Station Company.
"That is an absolute lie. You've got to stop lying," Johnson said in response.
He issued a statement flatly denying ever receiving an income paid through a company to avoid tax.
"To suggest otherwise is a complete and utter fabrication," he said.
A spokesman for Livingstone's team said Johnson "lost his temper because he lost the debate".