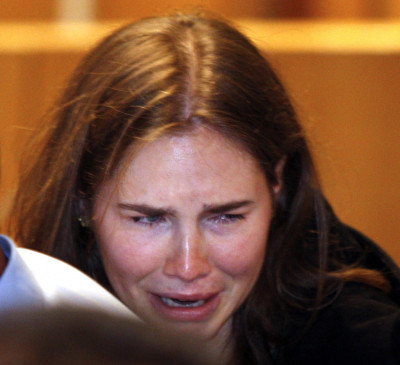 Amanda Knox is free to return to the United States after she and her former boyfriend Raffaele Sollecito were cleared by an appeals court in Perugia, Italy, of killing her roommate Meredith Kercher.
Both defendants sobbed as the judge read out the verdicts ruling that they should have their convictions overturned, citing questions about the DNA evidence used to convict them.
The judges took 11 hours to deliberate after both Knox and Sollecito gave emotional pleas of innocence. Though the judges did not immediately disclose their reasoning, they are likely to have been heavily influenced by the report of experts who reviewed the forensic evidence. In June, the independent experts decided that two pillars of the prosecution case were not reliably founded, the Guardian reports Tuesday.
In an emotional press conference Tuesday, the Kercher family said they feel as though they are "back to square one." Arline Kercher said that it was every mother's "worst nightmare." Her son Lyle said the case had been "incredibly difficult" to deal with. He said people getting let off on a "technicality" can happen anywhere.