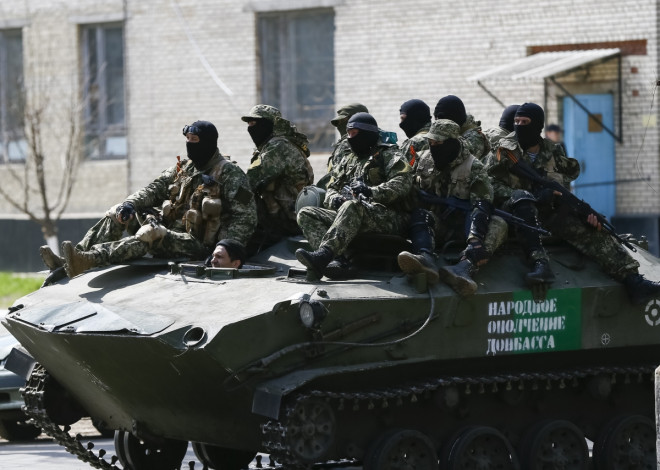 Key pro-Russian leaders who were leading rallies in the eastern Ukrainian region of Donetsk go missing even as armed protesters defiantly refused to lay down arms despite the latest Geneva agreement.
Alexander Sapunov, the self-proclaimed People's Mayor of Gorlovka in the Donetsk region, has disappeared along with his two key aides, anti-Kiev demonstrators told Russia's RIA Novosti.
"People's mayor Alexander Sapunov, the leader of the public movement City Order, has disappeared. He hasn't been in touch with us since yesterday evening. We went to their home, and found their car by the front door with the parking lights on," said the pro-Kremlin campaigners, who have been spearheading protests against Kiev's interim administration demanding autonomy from federal Ukraine.
The armed separatists have also refused to relinquish their weapons despite the latest agreement struck in the four-way talks in Geneva.
There have been no signs of tensions easing in the state buildings in eastern Ukrainian cities which have been seized by pro-Russian forces in the last few days, as masked gunmen remain holed up inside.
Russia, the US, the UK, and Ukraine have agreed that the situation in Ukraine must be de-escalated.
The Geneva statement said: "All sides must refrain from any violence, intimidation or provocative actions. The participants strongly condemned and rejected all expressions of extremism, racism and religious tolerance, including anti-semitism. All illegal armed groups must be disarmed; all illegally seized buildings must be returned to legitimate owners; all illegally occupied streets, squares and other public places in Ukrainian cities and towns must be vacated."
Russia's permanent representative to the UN Vitaly Churkin said: "The agreement seems to be good. Anyway, we will be looking after its fulfillment. We see that the situation is moving off dead center - the agreement comprises a clause stipulating transparent and inclusive constitutional process. This is what we were fighting for."