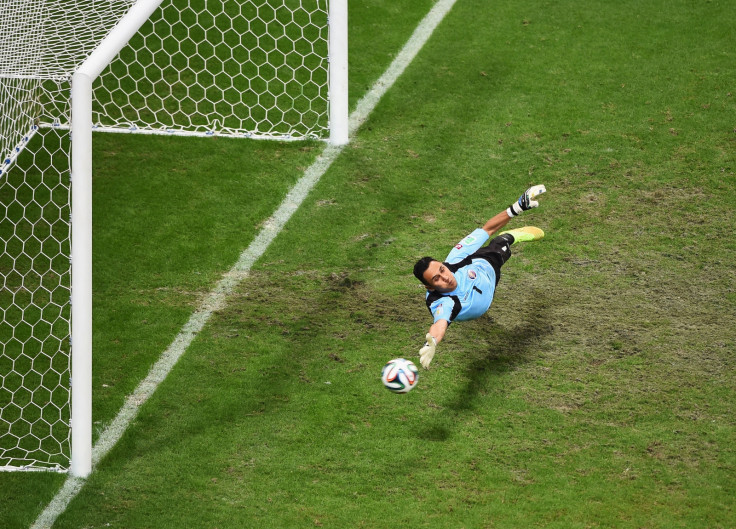 Real Madrid goalkeeper Keylor Navas has insisted he will not "give up" in his attempt to win the number one role at the Santiago Bernabeu even if the club sign Manchester United star David de Gea.
The Costa Rica international joined the La Liga giants in the summer of 2014 after former manager Carlo Ancelotti agreed to meet his £8m ($13m) release clause at Levante following his impressive World Cup performances.
With Iker Casillas under scrutiny since Jose Mourinho's spell in charge at the Santiago Bernabeu and Diego Lopez leaving for AC Milan, Navas was expected to become Ancelotti's first choice between the sticks.
But the Italian manager instead restored Casillas to the starting line-up, with Navas making only 12 appearances in the whole season.
Some reports claimed either he or Casillas could leave Real Madrid in the summer to make space for the expected arrival of De Gea.
But while Casillas has insisted on a number of occasions that he wants to hang up his boots at the Bernabeu, Navas says not only is he likely to stay, he is also ready to turnaround his situation and become the number one next season.
"Real Madrid have told me that I have a contract, I still have five years remaining... I'm going on holiday as a Madrid player and I'm going to fight [against Casillas and De Gea] to be the number one. I'm indifferent. I'll fight until the death to be a starter," he said to La Sexta.
Asked about the expected competition with De Gea, he said: "I always respect my teammates, but I don't focus on who's next to me and just try to do my job the best I can.
"I'll fight anyone for my place, I don't mind who. I try to respect everyone, but I have faith in what I can achieve going forward.
"Every year can be different. The more difficult the situation, the more I like it. I do not give up easily I will fight until the end. I'm no conformist nor any mediocre, I will not change my goals."