Khabib Nurmagomedov vs Tony Ferguson winner must impress to entice 'golden ticket' Conor McGregor
KEY POINTS
MMA star-turned-analyst Dan Hardy speaks to IBTimes UK ahead of UFC 209 event in Las Vegas.
Lightweight contenders Nurmagomedov and Ferguson clash in interim title bout.
Tyron Woodley also defends welterweight belt in rematch against Stephen 'Wonderboy' Thompson.
Simply emerging victorious from their UFC 209 co-main event clash may not be enough for either Khabib Nurmagomedov or Tony Ferguson to secure a high-profile future showdown with Conor McGregor, according to Dan Hardy.
The two lightweight rivals go head-to-head in Las Vegas on Saturday night (4 March) in a bid to become interim title-holder with official 155-pound champion McGregor currently taking an extended break before the birth of his first child.
UFC president Dana White has already stated that he expects the brash Irishman's next fight to be an mixed martial arts (MMA) bout against the winner of Nurmagomedov-Ferguson, despite ongoing rumours regarding a lucrative boxing duel with Floyd Mayweather Jr.
For that to happen, however, British welterweight veteran-turned-popular-analyst Hardy claims the contenders will need to put on a real show to convince McGregor that they are worthy of his attention in an era where being the number one challenger does not always guarantee a title shot.
"Effectively, they have invested their whole lives in this one fight, after this point, they can start thinking about the title fight," Hardy told IBTimes UK. "But until they get that win, nothing is for certain. Even then, look at Yoel Romero, being number one contender [for Michael Bisping's middleweight belt], you are never sure you will get that title fight. Not only will they have to get that win, they are going to have to be very, very impressive and they are going to have to entice McGregor to want to take that fight because if he doesn't, it will be very difficult to sell it to him."
This weekend's meeting between Nurmagomedov and Ferguson has certainly been eagerly anticipated and Hardy believes it will set the tone for the rest of the 2017.
"It will give us the clearest idea of where the lightweight division is at. McGregor effectively stepped in right at the top, took the belt and is holding it hostage at the moment while all the other guys are scrambling about trying to get in line for a shot. There is no doubt, McGregor is the golden ticket in this sport. If you are going to fight against McGregor, whether it is for a title or not, it is probably the biggest fight you are ever going to have in your career."
Headlining the card at UFC 209 – an event that has been somewhat overshadowed by recent confirmation that Georges St-Pierre will make his long-awaited octagon return against Bisping later this year – is a welterweight championship rematch between Tyron Woodley and Stephen "Wonderboy" Thompson. The duo battled to an initially confusing majority draw at UFC 205 in January and will likely have to take more risks in order to secure a finish this time around.
"I certainly think Wonderboy will take more risks," Hardy added. "What is interesting is that because the last fight ended in such a close draw, neither fighter felt they did enough to get the win. Both fighters will have gone away and worked to better themselves and add more to their games in order to be able to give more in this fight.
"Woodley is obviously a very powerful athlete so I don't see his work rate increasing at all. The one thing that surprised me in the first fight was how quickly Wonderboy was discouraged from throwing strikes. Within the first two minutes of the first round he was on the floor, he took some big elbows. In the second round, he was controlled up against the fence for a good portion of it. It really discouraged him.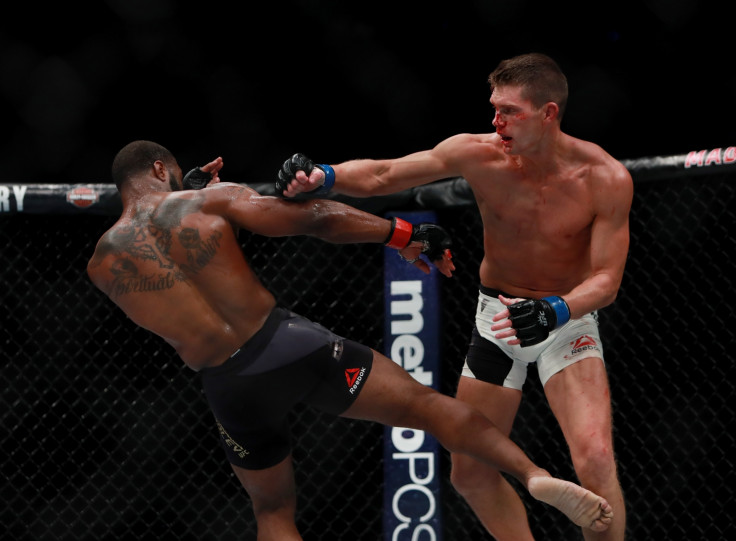 "It was exactly the same as I felt after fighting GSP. I looked back at the performance and when I had the opportunity to throw strikes I was hesitating because I was expecting a take down, that was my downfall. Thompson will look at the first fight and feel the same way. I think he will look at it and go 'there were the opportunities where I could have put pressure on him and I could have upped my work rate and thrown my strikes and I chose not to because I was hesitant, I was concerned and didn't want to waste more time on the floor trying to get back to my feet'.
"I think part of him will feel in this fight, particularly in the later rounds, the championship rounds, he will decide to start taking more risks. He'll throw caution to the wind and start rolling the dice. I think that's what makes this really interesting. Woodley, throughout the 25 minutes, will always have that power to put you on the canvas with one punch. The likelihood of either fighter getting a finish in this fight is far higher than in the first one because they are both going to be taking more risks."
Part Reptile by Dan Hardy is published by Headline, priced £20
© Copyright IBTimes 2023. All rights reserved.