Tyron Woodley believes welterweight legend Georges St-Pierre does not want to fight him.
St-Pierre will be making his return to the octagon after a three-year hiatus where it was recently confirmed that his return fight will be against middleweight champion Michael Bisping for the title.
There were rumours previously that the Canadian may fight at welterweight again as well as possibly the lightweight division with murmurs of a Conor McGregor fight.
However, with the news that the 35-year-old will fight in the middleweight division now, UFC welterweight champion Woodley will now not only miss out on having a chance at fighting one of the best fighters of all time, but will also miss out on a huge payday.
"This happened to me before," Woodley told MMAFighting's Ariel Helwani. "I was told if I beat Rory McDonald I would fight for the title. And that Wednesday fight week, it was announced that the winner of Robbie Lawler versus Matt Brown would fight for the title."
"And it really took me off my rocker, I was really upset, I was going to fight Rory in his hometown to beat him there and go on to fight for the gold. And it really took it away from me.
"I acted as if it didn't bother me but it really did. The fight didn't mean the same thing. In this case I'm the world champion, so I can't allow a fight that has nothing to do with me at this current point to take over the mindset of fighting Wonderboy. I'm blocking it completely out."
St-Pierre's coach recently stated that if Stephen Thompson beats Woodley for the title, there will likely be a trilogy, hinting that as a possible reason why "GSP" will not return to welterweight.
Woodley, who believes he is the greatest welterweight fighter of all time, believes St-Pierre is just avoiding fighting him.
"I think I'm the greatest welterweight of all time because I'm the hardest puncher and I'm the best wrestler, I think I'm the most well rounded," he added. "And GSP, he don't want to fight me. GSP, one of the reasons he left the sport is because of concussions."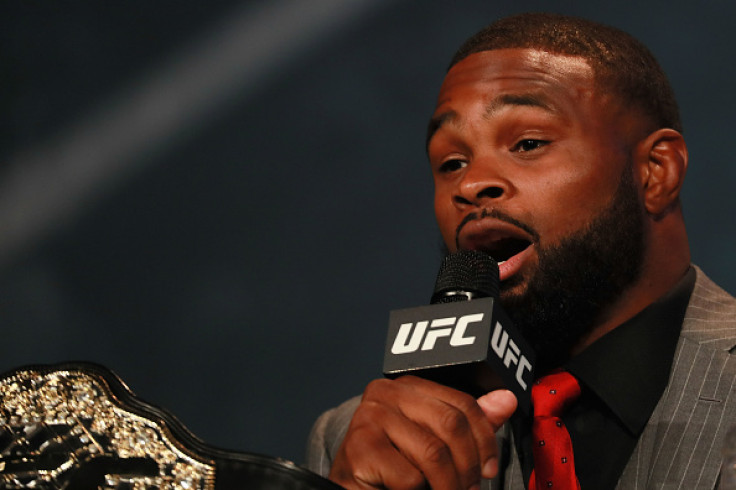 "He's talking about going down to 155, he's going up to 185, Michael Bisping isn't known to be the power striker to knock the head off your head. And I think he's avoiding fighting me. So therefore I'm the greatest welterweight of all time if he doesn't want to fight."