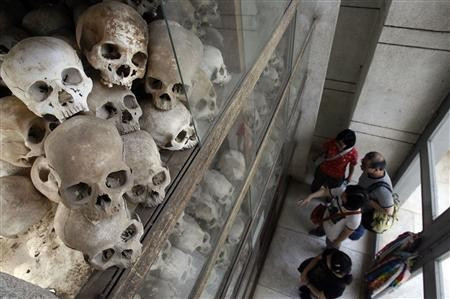 Four top surviving leaders of Cambodia's brutal Khmer Rouge regime went on trial before a U.N.-backed court for the first time Monday, facing justice three decades after their movement caused the death of an estimated 1.7 million people.
Security was tight at the tribunal, with dozens of police on guard and 500 spectators, the majority victims of the 1975-79 regimes, watching from the gallery.
As the Khmer Rouge leader Pol Pot died in 1998, many insist the trial represent the nation's best chance to hold the accused architects of the "killing fields" and the enslavement of millions of Cambodians accountable.
Almost a quarter of Cambodia's population were wiped out under the Khmer Rouge through torture, execution, starvation and exhaustion, and the episode left the country highly traumatised and fractured.
On trial Monday were 84-year-old Nuon Chea, who was Pol Pot's No. 2 and the group's chief ideologist; 79-year-old former head of state Khieu Samphan; ex-foreign minister Ieng Sary, 85; and his 79-year-old wife, Ieng Thirith, who served as minister for social affairs.
However all four deny the charges brought against them and claim they are innocent.
Tribunal's chief judge, Nil Nonn, opened the court session and the defendants showed no emotion as opening statements to the U.N.-backed tribunal were read before a packed auditorium in proceedings screened on national television.
The four are charged with committing crimes against humanity and genocide and accused of a long list of crimes under both international and Cambodian laws, including murder, enslavement, religious and political persecution, inhumane treatment and unlawful imprisonment

Sem Hoen, who lost four family members at the hands of the Khmer Rouge, told journalists she queued for several hours for a seat in the courtroom. She said all he wanted was an explanation as to why so many people were killed indiscriminately.
"I want them to confess. People won't stay calm if they don't say what happened," she said. "Justice is very important."
Together, the four form what the tribunal calls Case 002. Last year, Case 001 led to the conviction of the chief jailer of a notorious Khmer Rouge prison.
A Case 003 was initially expected however as the tribunal is crippled with political and financial pressures, it is now uncertain whether a trial will take place.
Although this week's court sessions will be strictly procedural, with testimony and presentation of evidence expected to begin in August or September, it will mark the first joint appearance of the defendants in court, 32 years after the Khmer Rouge were kicked out of power in 1979 with the help of a Vietnamese invasion and for more than a decade waged a bloody insurgency against the Phnom Penh government.
The tribunal, officially known as the Extraordinary Chambers in the Courts of Cambodia, started operations in 2006. Its first defendant was Kaing Guek Eav, also known as Duch, commandant of Tuol Sleng prison, where only a handful of prisoners survived. Up to 16,000 people were tortured under Duch's command and later taken away to be killed.
However, the tribunal was highly criticised when Duch, now 68, was sentenced to 35 years in prison for war crimes and crimes against humanity but his sentence was later reduced to a 19-year term because of time previously served and other technicalities.
Alex Hinton, an anthropology professor at Rutgers University and author of a book about atrocities in Cambodia, says Duch's case had "enormous symbolic value" because the prison was so closely associated with the horrors of the Khmer Rouge. But Case 002 "is more significant in that it will put the four most senior surviving Khmer Rouge leaders on trial for the first time."
"We will learn much about their thinking, the way their regime worked, and, ultimately, how their program of mass murder was enabled and unfolded," he says.
Observers however warn this could prove to be an arduous trial as proving the case may pose a challenge.
Contrarily to Duch, who expressed remorse, acknowledged responsibility for his actions and kept meticulous prison records that were mostly recovered when the Khmer Rouge fled Phnom Penh, the capital, the Case 002 is said to be less solid, and the defendants have not been as accommodating.
Far from acknowledging any responsibility for the genocide, in previous public statements, they have tried to cast blame on others, such as the Vietnamese, who supposedly committed atrocities when they invaded, or Pol Pot himself, conveniently dead.
"Do I have remorse? No," said Ieng Sary in 1996, after he led a mass defection to the government. "I have no regrets because this was not my responsibility."

Ieng Sary, whose wife was the sister of Pol Pot's wife, chose to blame Khmer Rouge atrocities on the group's leader. He insists he was a secondary figure and was not part of Pol Pot's secret security committee, which was the only organ allowed to decide on the policies and who would be executed next.
Sentences handed down by the tribunal can range from a minimum five years to a maximum of life in prison. There is no death penalty in Cambodia.
As it is not sure whether Case 003 will take place, the tribunal has been mired in controversy as critics have accused the co-investigating judges, from Cambodia and Germany, to scuttle further prosecutions.
More recently, Cambodian Prime Minister Hun Sen, who is said to be wary that political allies who once served with the Khmer Rouge, as he himself did, could face prosecution, has declared he simply won't allow more trials.
"The current controversy in the court could lead to questioning by the public, which, added to the complexity and length of the procedures, may create fatigue and perhaps a kind of cynical reaction in front of what many people consider as an outside political interference," warned Kek Galabru of the Cambodian human rights organization Licadho. "Unfortunately, this could undermine the reputation of the court."
However Andrew Cayley, the British co-prosecutor, explained the process has taken a long time out of necessity.
"Justice has been delayed because the Khmer Rouge went on fighting the government until the late 1990s. It took 20 years to get a point where real trials could even be considered and then Cambodia needed help," he said.
"Its legal system was in ruins with few qualified lawyers left - most had been murdered by the Khmer Rouge - and yet they took the very courageous step of having these trials and addressing the past.
"That's hope. For all of us."
However as long as the defendant refuse to acknowledge any responsibility; the victims will still have a sense of nonfulfillment. While the court has been set up to bring those who committed the atrocities to justice, another purpose, which will be much more difficult to achieve, will be for the convicted to face up to their own actions.