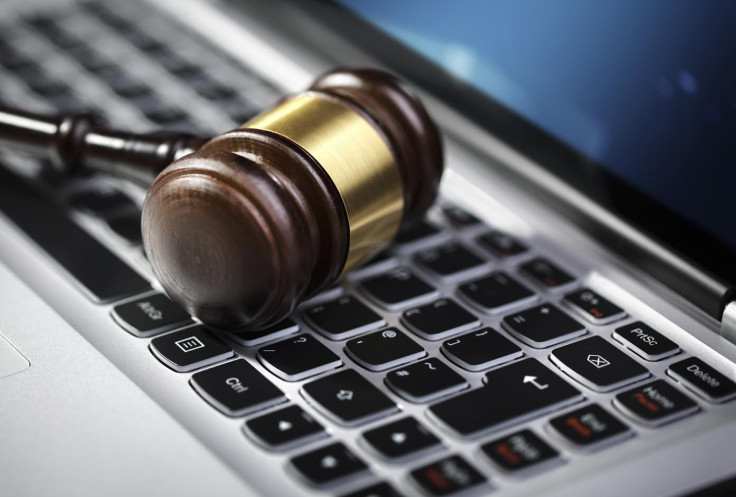 The US Department of Justice (DoJ) has indicted three alleged operators of filesharing website KickassTorrents (KAT) on a slew of copyright infringement and unlawful distribution charges, according to court filings released on Tuesday (23 August 2016).
In July, 30-year-old Rates Vaulin, an alleged administrator of the website, was arrested in Poland and charged with unlawfully distributing more than $1 billion (£757.8m) of copyrighted materials, including movies, television shows and computer software.
The new indictment, as disclosed by TorrentFreak, shows how US prosecutors have now named two more Ukrainian suspects in the ongoing legal proceedings: Levgen (Eugene) Kutsenko aka 'chill' and Oleksander (Alex) Radostin aka 'pioneer'.
The indictment claims the three men ran the website together in order to "encourage, induce, facilitate, engage in, and generate millions of dollars from the unlawful reproduction and distribution of copyright-protected media".
This, it added, included movies (some of which were still in cinemas), TV shows, music, video games, computer software and ebooks.
In additional to their operation of KickassTorrents, the legal filing alleges the trio were heavily involved in other illegal 'download websites', including Solarmovie, watchfilm.com, movie2b.com, hippomovies.com, bino.tv, and moviepro.ne. One torrent storage service, called Torcache.net, was also reportedly managed by the individuals.
The indictment, which routinely labels the case as the KAT 'conspiracy', stated the suspects created and implemented a "reputation" and "user achievement" systems to reward verified uploaders for posting good torrents.
It said they intentionally indexed the website to allow users to "easily search for, locate and obtain" illegal and copyrighted content – all while promoting KickassTorrents on social-media platforms, including Facebook and Twitter.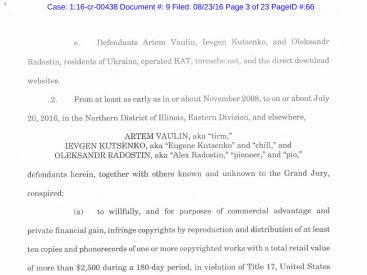 In June 2016, KAT "made available and distributed without authorisation" a slew of unreleased movies including Batman vs Superman: Dawn of Justice, Deadpool, X-Men: Apocalypse, Captain America: Civil War, Central Intelligence, Now You See Me 2 and The Jungle Book, it added.
Some of the more serious allegations the US intends to prosecute revolve around a spate of payments gained from "extensive" online advertising on the website. In order to conceal the payments, KAT administrators reportedly instructed advertisers to "deliver funds to bank accounts in the name of various corporate shell companies controlled by KAT."
In an undercover operation spearheaded by the Internal Revenue System (IRS), which involved an agent posing as an eager advertiser, an ad was purchased that went through a shell firm called GA Star Trading. It reportedly cost $1,500 to place an ad for five days and was put on the website as a click-through link that promised a fast download of the movie Deadpool.
In a separate case, US prosecutors said that payments also went to a bank account in Estonia under the name Glomeratus. The indictment stated that in May this year, KAT accepted a payment under that name from a US advertiser that wire-transferred roughly £135,000 from a US bank account.
At the time of writing, the DoJ has not made any official statement on the indictment. It remains unknown if the two new named defendants have already been arrested. According to TorrentFreak, court records show two warrants have been submitted but they remain under seal.
After Vaulin was apprehended, US authorities claimed the copyrighted material on Kickass Torrents was valued at well in excess of $1 billion. It said the website was receiving "more than 50 million" unique visitors every month and had a net worth of more than $54m. It annual advertising revenue was reportedly between $12.5m and $22.3m.