Crowdsourcing funding website Kickstarter has opened its doors in the UK, allowing British users to create their own projects for users to invest funding into.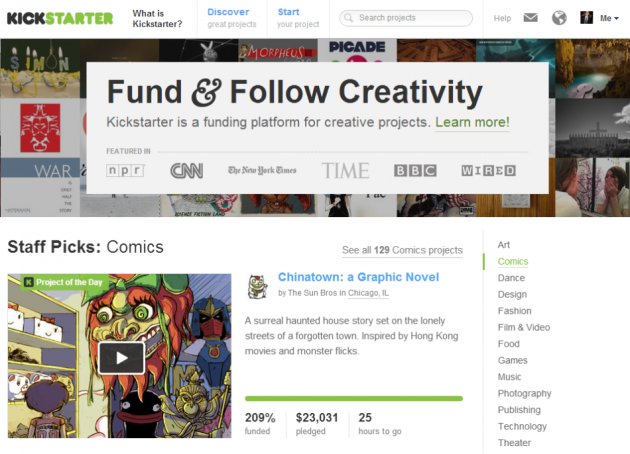 The idea of Kickstarter is to set up a funding page for a project you want to get off the ground; fellow users can then donate money to your project if they like the sound of it, with donations ranging from £1 to thousands of pounds.
Kickstarter keeps five percent of each successful pledge given to projects on the website, and, with more than £210m already donated in the US, Kickstarter is already proving a success for itself, and also the projects it is used to promote.
British users have been able to set up their Kickstarter projects since 10 October, but starting today, 31 October, the projects can now be funded.
UK-based projects are listed alongside American ones, but you can search by city or your current location to find projects based in a specific place.
Kickstarter said on its blog: "We're really excited. This is the product of months of work by our team, and we want to thank them for their hard work. Thanks as well to all the UK creators who have patiently waited for this day. We can't wait to start backing your projects. Thanks so much."
The site already has 125 projects in London, 37 in Edinburgh and eight in Manchester, along with a further 28 scattered across the country.
Picade
Of note is Picade, which is a Sheffield-based project by Pimoroni Ltd that hopes to produce a retro-style arcade games cabinet to be controlled by the Raspberry Pi computer.
The arcade machine is designed to fit on your desk and is aimed at gamers who enjoyed playing retro arcade games like Pacman as a child; the cabinet is to be sold in kit form, which the company hopes will appeal to the hacking nature of many Raspberry Pi users.
Before midday on its first day, Picade has received £2,784 in funding from 34 backers, and with 29 days remaining the project is aiming for a funding goal of £32,768.
"The Picade and Picade Mini come in kit form for you to build at home. All parts, panels, and components are included - you just need to supply the Raspberry Pi. "he only tools you'll need are a screwdriver and a pair of pliers. Total build time is around one hour and full instructions are included with the kit.
"You then load up your Raspberry Pi with whatever games or emulators you want to play, hook it up to the Picade and have a blast," the Picade team say on the project's Kickstarter page.
Kickstarter is already familiar with unconventional games consoles, with the Android-powered Ouya console gaining international interest and more than $8.5m (£5.3m) in funding earlier this year, after originally asking for just $950,000.