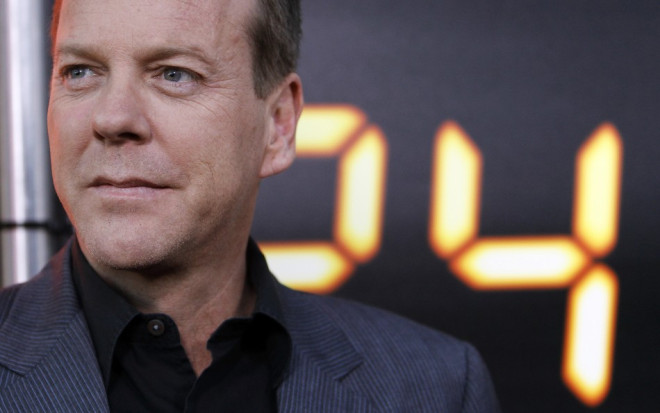 Hollywood star Kiefer Sutherland has been spotted dashing around the streets of London.
The 47-year-old star is currently filming 24: Live Another Day, which is being shot entirely in the British capital.
Wearing a black leather jacket and black cargo trousers with a duffel bag slung across his body, the star, who plays CTU Agent Jack Bauer in the popular series, emerged from the London Underground into Charing Cross.
Passersby watched as he ran past a row of taxis and along the street before crossing the road in front of a red double decker bus and then stopped by a red public phone box.
The actor was followed by a camera team who captured the elaborate chase sequence.
Kiefer has been in London for several weeks where he is shooting the ninth series.
While the plotline is closely guarded, the actor revealed that the action takes place some four years after Day 8 (or season eight), in which Jack is a fugitive seeking sanctuary in London.
The actor has won an Emmy, a Golden Globe and two Screen Actors Guild Awards for his role as Agent Bauer in Fox's hit TV drama.
It has been revealed that the new season will see a slight change in format by incorporating 12 episodes instead of the standard 24 that made up previous seasons.