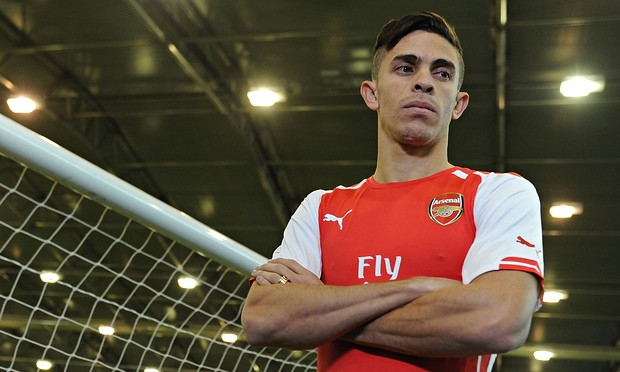 Arsenal left-back Kieran Gibbs has claimed the January arrival of centre-back Gabriel Paulista will let Arsene Wenger address the number of injuries in the squad during the crucial final part of the campaign.
After failing to sign a centre-back last summer to fill the void left by Thomas Vermaelen's departure to Barcelona, Wenger was forced to use left-back Nacho Monreal in the heart of the defence in a number of games in the first part of the campaign due to the absence of Laurent Koscielny.
After right-back Mathieu Debuchy suffered his second long-term injury of the season, the boss decided to bolster his defence in the recent transfer window with Gabriel, paying around £14m to Villarreal to secure his services.
Gibbs has hailed his arrival after the Brazilian made an impressive debut with the Gunners during the FA Cup victory over Middlesbrough on Sunday (15 February).
"At this stage of the season, we don't want to have any excuses that we fell short from injuries. It is nice to know that we have got a good solid central defence who are all available," the left-back said in reference to Gabriel.
Wenger had warned against expecting too much too soon from Gabriel as he needs to adapt to the Premier League pace and learn the language.
However, Gibbs believes his performance against Middlesbrough has proven he is more than ready for the challenge.
"He came in on his debut and did extremely well. He looks like he has been playing at this level for a long time. He has settled in straight away which is good for us" Gibbs said.
"One of the biggest things that I've realised from him is that he embraces the physical side of the game. That's what we want from a centre half."
Gibbs points out that Alexis Sanchez has also arrived this season without any knowledge of English, and quickly managed to settle into the team and become one of the best players in the Premier League.
"He [Gabriel] doesn't speak any English at the moment and it was the same with Alexis when he came. It won't take him long. We've brushed him up on a few of the sayings for him to get used to," Gibbs said.
"In training and stuff in the week, Steve Bould goes through it with him with one of the Spanish boys, who then translates what it means in English so he understands when it is said to him on the pitch. That's what it starts from and to get a good understanding it is important."