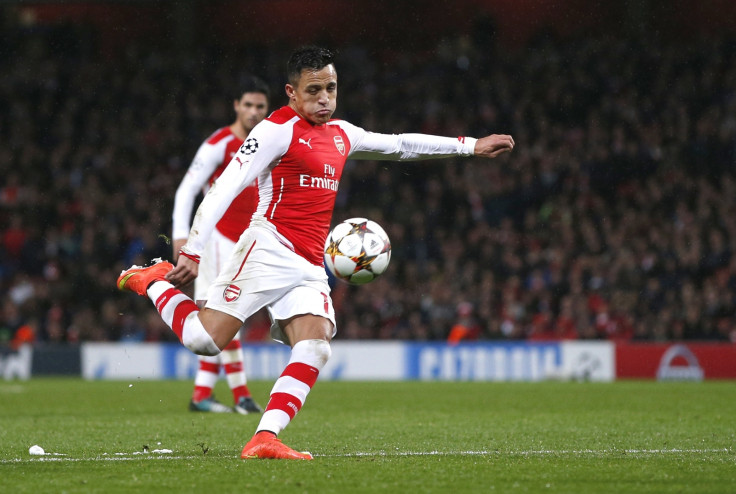 Arsenal manager Arsene Wenger has admitted he took a gamble in starting Alexis Sanchez in his side's FA Cup fifth round victory over Middlesbrough on Sunday 15 February.
The Chilean international was a major doubt before the game after suffering a knee problem during the midweek win over Leicester City.
However, Wenger decided to use him and named him in the starting XI that eased to a 2-0 victory at the Emirates.
"He had a good performance. I think he became stronger as the game went on but because I took a gamble with him, I took him off with 20 minutes to go. He needed the game as well," Wenger told a post-match press conference.
"He always wants to play. Everybody's like that but he's a bit more like that."
Questioned whether the player is now more himself, he responded: "Yes.
"He didn't miss too many games and what was important for him was to get through the game without injury."
Wenger also revealed Jack Wilshere is closing in on his return to action.
"He's two weeks ahead of schedule. I had a hesitation to put him on the bench today but I thought I wanted him to have one more week of training at least.
"We controlled the game from the first to the last minute. They had one chance at the end from a header, but overall I'm pleased with the way we attacked, the way we defended and with the way we played together with a good focus for 90 minutes. That's basically it."
The boss also praised Olivier Giroud's performance after the French striker scored the two goals during the first-half to lead his side to an easy victory.
"The first goal is what we try to do in our game and our build-up. The second goal shows that the game belongs to the players as well because it's a consequence of two players who respond quickly to a situation, analyse it quickly and do what they want to do well. That's basically what it was. It's a consequence of intelligence and technique," he said.
"I believe that he is a different player today than the guy who arrived here for two reasons. One, he understands what top-level football demands, works with a great concentration in training and he has improved tremendously on his mobility, his technical quality and of course his body is very strong. He uses it very well.
"