She provoked the wrath of thousands of fans after promoting morning sickness drug Diclegis on Instagram and now Kim Kardashian has received a stern warning from the Food and Drug Administration (FDA).
In July the reality star, who is expected her second child with rapper husband Kanye West, posted a picture of her holding a bottle of the drug Diclegis on Instagram, claiming she had been prescribed it by her doctor.
"OMG. Have you heard about this?" she captioned the snap. "As you guys know my#morningsickness has been pretty bad. I tried changing things about my lifestyle, like my diet, but nothing helped, so I talked to my doctor.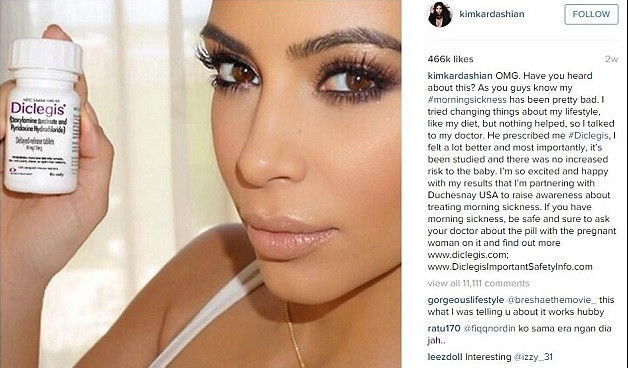 She went on to say to her 42.5m followers: "He prescribed me#Diclegis, I felt a lot better and most importantly, it's been studied and there was no increased risk to the baby. I'm so excited and happy with my results that I'm partnering with Duchesnay USA to raise awareness about treating morning sickness.
"If you have morning sickness, be safe and sure to ask your doctor about the pill with the pregnant woman on it."
The social media endorsement, which she was reportedly paid for, provoked online uproar and now the FDA have weighed in. "The social media post is misleading because it presents various efficacy claims for Diclegis, but fails to communicate any risk information," the watchdog said in a letter to the manufacturer.
But the pharmaceutical company behind the drug defended the recommendation, insisting that while the 34-year-old star was paid to promote the drug she had found it on her own accord through her family OB-GYN.
"Duchesnay USA takes its regulatory responsibilities very seriously, and acknowledges that its communications, including in social media as in this particular instance, need to be in accordance with applicable rules and regulations," the company said in statement to CNBC.
Although Kardashian has yet to comment, she has since removed the post from her account.