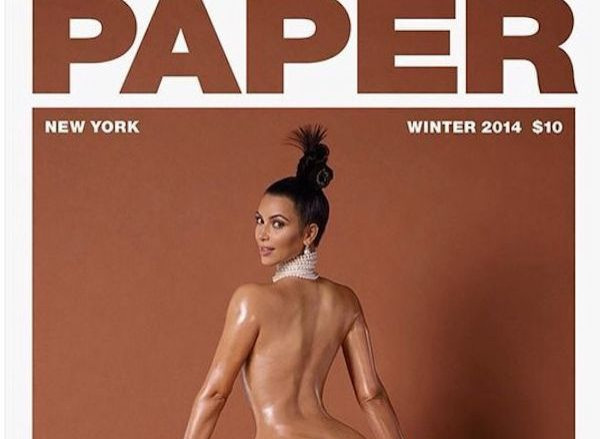 Kim Kardashian reportedly did not receive a dollar for getting naked and rolling in baby oil for her infamous Paper Magazine cover. And now the publication's chief creative officer, Drew Elliott, has revealed the racy shoot, which #broketheinternet, was the reality star's idea.
Speaking at Cannes Lions 2015, Elliot said that although the initial deal was Kanye West's wife would keep her clothes on, the plan changed on the day.
"The one small problem we were running into was that Kim Kardashian's publicist said she won't do anything naked," he explained.
But lucky for them after a dinner with fashion designer Riccardo Tisci, "she arrived prepared to shoot nudes".
Upon her arrival in Paris, Kardashian is said to have told the Paper team: "Well, what about all the naked shots. I came to do that."
Elliott said the magazine knew it was on to a winner and the shoot "turned into a striptease".
Paper Magazine had to publish two covers, one featuring the famous Kardashian derriere in all its oily glory and a classier fully clothed version as the US Postal service would not deliver a naked one. The cover was launched at 7,53 pm on 11 November 2014.
"We tweeted it out. We had 2,79,000 unique visitors [versus 30,000] normally. What people who visited the site didn't know, was that the best was yet to come," Elliott said.
After all the images were released, 50 million people visited the Paper Magazine website. The chief creative officer said: "What we didn't have an idea about was the kind of memes that would follow. Even brands jumped on to it."
Kardashian later described the images, captured by celebrated photographer Jean-Paul Goude as a "work of art".
"I was so honoured and excited to work with [photographer Jean-Paul Goude] because he is a legend, and for me that was something I wanted to do to make myself feel confident," she said during an appearance on Australia's The Project on Channel Ten.
"As a role model I'm not saying anyone else should do that, but for me it was an art project and it taught me to do what you want to do. I love the photos, I did it for me, I hope other people like them."