The photographer who took the 'Break the Internet' nude pictures of Kim Kardashian-West has defended the images describing them as "art."
The American reality TV star was smeared in baby oil for the shots and let her black cocktail dress slip fully exposing her famed posterior for the image featured on the cover of Paper Magazine.
After Kardashian-West shared the shots with her 21 million Instagram followers, the images have been endlessly parodied, as the 34-year-old is mocked for the explicit images.
But acclaimed French photographer Jean-Paul Goude said of the much derided pictures that he is "very proud of them" adding they "were by no means a caricature of Kim, but art."
He reportedly told colleague Virginie Laguenes in Paris: "I am very proud of what they represent – yes there is meant to be humour in the pictures, but above all they are very artistic."
The photographer is said to have "worked very well" with the Keeping Up With The Kardashians star. More pictures have since been released in which the star appears in a full frontal nude pose.
They also recreated Goude's iconic 1976 'Champagne Incident' image of model Carolina Beaumont opening a bottle of champagne onto a glass balanced on her bottom.
A soruce revealed that despite being the focus of derision, Kardashian is happy with the results. "She feels very comfortable with French people, and pretty much did anything that Jean-Paul asked. She absolutely loved the snaps," said a source.
"Kim is particularly happy about the way the pictures are already becoming as iconic as the 1976 champagne incident ones."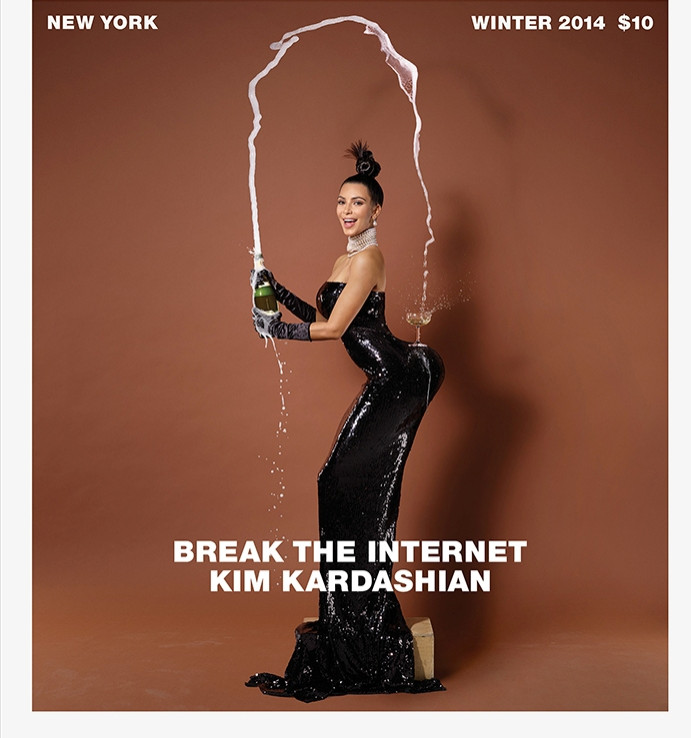 Paper's editorial director Mickey Boardman explained that the nude shoot was all the reality star's idea.
"Kim's attitude was 'if we're gonna do it, let's really go there,' he said.
"And it was her idea to take off her clothes and show more than her butt. But we [Paper] didn't say 'let's do a cover with your butt hanging out.'
"She said she was willing to take her clothes off and one thing lead to another."
Mr Goude, 74, has refused any formal interviews about the pictures. "He is busy with a new project, and wants to carry on with that," said Mme Laguenes.
The photographer has shot iconic images with actress Vanesssa Paradis and singer Grace Jones, a former lover with whom he has a son, Paulo.