Kobo has announced its latest 7in Android tablet, the Arc, hoping it will be more successful than last year's dismal Kobo Vox.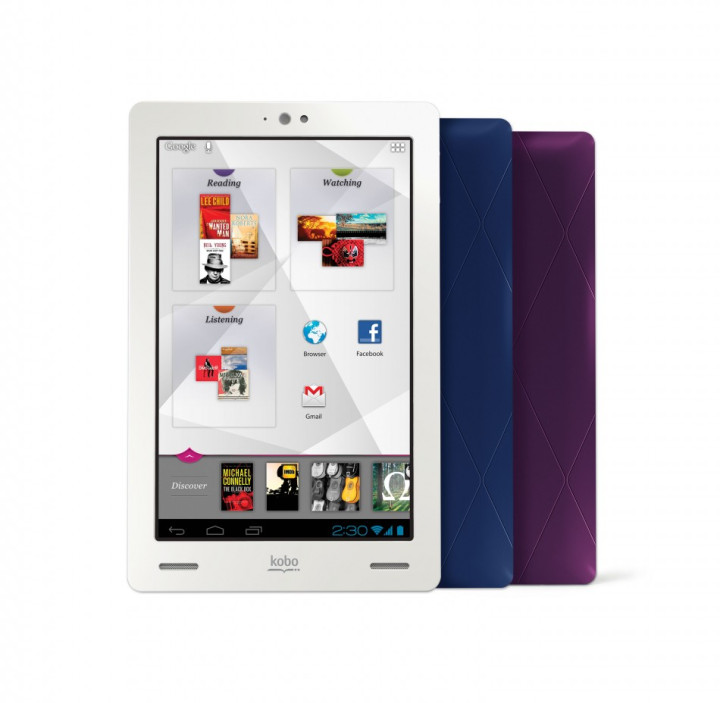 Going on sale in the UK in mid-November, the new Kobo tablet will no doubt compete directly against Amazon and its new range of Kindle Fire tablets, expected to be announced later today. It will cost £159.99 for the 8GB model, £189.99 for the 16GB and a 64GB model will set you back £229.99.
IBTimes UK was invited to an exclusive demonstration of the new Kobo Android tablet during our trip to IFA this month, but sadly we weren't allowed to take photos of the products.
The Kobo Arc is a 7in tablet running Android 4.0 (Ice Cream Sandwich) and is powered by a 1.5GHz dual-core processor with 1GB of RAM.
With a screen resolution of 1280 x 800, the Arc has a pixel density of 215 pixels per inch and can of course display HD video.
What makes the Arc stand out from the increasingly crowded Android tablet space is Kobo's bespoke Tapestries user interface, built on top of Android and designed to help keep your content organised while offering up suggestions based on your interests - in a very similar way to the Google Nexus offering you suggestions from Google Play.
Tapestries makes use of several home screens and sections on each screen to keep your content organised; there's a space for books, one for movies, one for music etc.
Each section of Tapestries acts like an individual home screen widget and they can be lined up next to apps, just like on any other Ice Cream Sandwich home screen. What makes Tapestries different from other Android skins is Discover, a grey vertical bar that takes up a lower section of the home screen.
Discover is an automated system that compiles things the Arc thinks you might be interested in. It gathers the items based on what you consume on the tablet.
Discover
For example, IBTimes UK was shown a Kobo Arc with the Steve Jobs biography on it, and Discover was providing links to more information about the late Apple co-founder, such as his Wikipedia page and recent news stories about him.
Discovery will also point the user towards new content to purchase, although the Kobo team was keen to point out that the utility is not meant to be an advertisement to sell content, but an honest way of providing more on things you are interested in.
Kobo Everywhere acts much like Amazon's Whispersync service and ensures that the Arc will be kept up to date with your latest purchases, and any deleted content can be re-downloaded.
Away from Tapestries and Discover, the Kobo Arc is much like any other Android tablet, in that it has full access to Google Play and can run all Android apps, and there's also Wi-Fi Direct to stream content to a compatible TV, an HD front-facing camera and up to 16GB of storage.
The Arc tablet measures 120mm x 189mm and is 11.5mm thick, and weighs 364g, making it 1mm thicker than the Google Nexus 7 and 24 grams heavier.
As for battery life, Kobo claims the Arc will last up to ten hours of continuous reading or video playback with Wi-Fi turned off, and more than two weeks of standby time is apparently possible.
The Kobo Arc is available in white or black, with light and dark grey backs respectively, and Kobo will also sell removable backs in blue and purple if you wish to customise your Arc - a price for these covers has not yet been announced.
Going on sale in the UK in mid-November (no specific date yet), the Arc will cost £159.99 for the 8GB model, £189.99 for the 16GB and £229.99 for 64GB; IBTimes UK will have a full review of the tablet soon.