The ereader manufacturer Kobo has announced two new ereaders, the 5in Mini, and the 6in Glo which features an illuminated touch screen.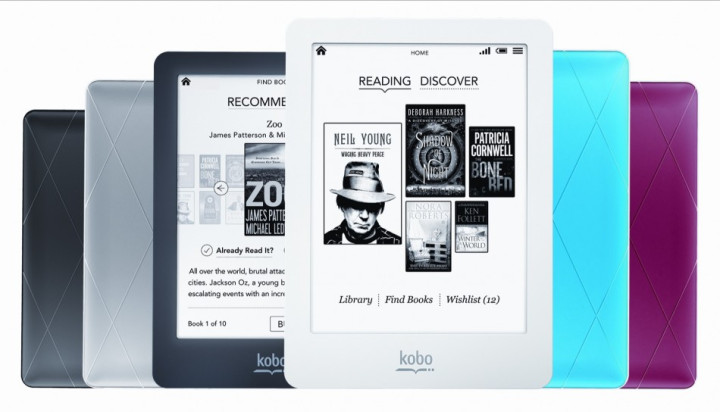 Ereaders are hugely popular because they can be read in direct sunlight, and the lack of a backlight reduces eye strain and improves battery life - but they can't be read at night, and this is where the Kobo Glo comes in.
Kobo Glo
Announced alongside the Arc 7in Android tablet and 5in Mini, the IBTimes UK was given an early look at the Kobo Glo during our visit to the IFA technology trade show in Berlin, and comes just hours before Amazon is expected to announce a similarly-lit Kindle reader.
Barnes & Noble, who just announced it was bringing its Nook ereaders to the UK later this year, already have a backlit erader on the market, called the Nook GlowLight.
The Kobo Glo has a 6in E-Ink touchscreen with a resolution of 1,024 x 768, which is higher than the current Kindle's 600 x 800 offering and claims to offer the sharpest and most readable text of any ebook reader to date.
The screen is lit up by several LEDs located below and in front of the screen, which cast an even and soft glow across whatever you're reading.
We were given a demonstration of the Kobo Glo and were very impressed with the lighting; it's evenly spread across the screen and makes the device easily readable in the dark, and the brightness can be adjusted too.
Surprisingly, the light saps so little energy that the quoted one month battery life is unaffected if you have the light on or off.
Kobo told us that this month of use is based on 30 minutes of reading per day, with one page turn per minute and the brightness set to 20 percent.
With the Glo, Kobo is including Social Reading, which includes Reading Life, a feature that tracks your reading stats and lets you share favourite passages and extracts with your Kobo-owning friends.
Extracts and 'Reading Life awards' can be sent to your Facebook and Twitter profiles - it seems that even reading a book can be integrated with our social networks these days.
Inside, the Kobo Glo is powered by a 1GHz processor, which helps to produce lightning quick page turns, and there is 2GB of onboard storage - although this can be upped by 32GB thanks to a microSD card slot.
Kobo was keen to tell us about how the fonts of the Glow can be adjusted almost infinitely, with users able to change the weight and sharpness of the seven preloaded fonts in 24 sizes, and you can also upload your own.
The Kobo Glo measures in at 114 x 157mm, is 10mm thick and weighs 185g, 15 grams more than the Kindle 4 but 28g less thatn the Kindle Touch.
Speaking of wireless, the Kobo Glow has Wi-Fi b/g/n and also a microUSB port for charging and syncing.
Kobo's bookstore has nearly three million books, newspapers and magazines on offer, of which one million titles are free to download and read.
The Glo can also accept just about any ebook format, including ePub and Adobe DRM, and PDFs can be zoomed in on by double-tapping the screen.
Going on sale on 1 October, the Glo will be available in blue, pink, black and white, and will cost £99.99.
Kobo Mini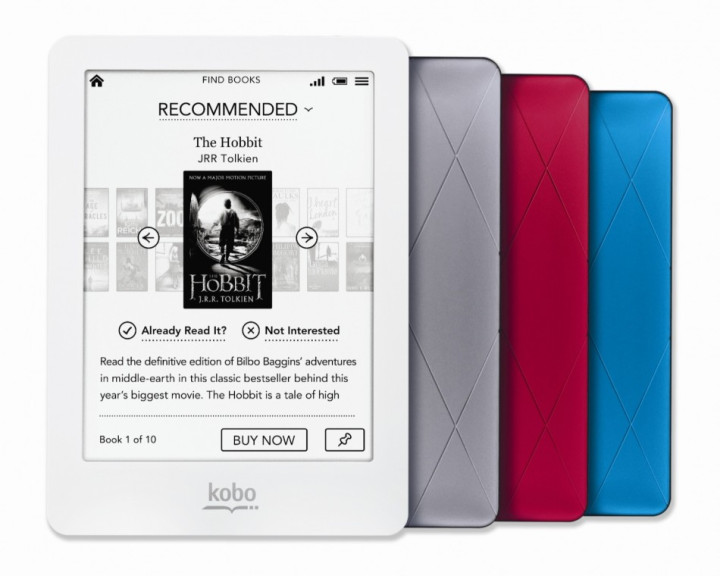 Finally, Kobo is also introducing the Mini, a pocket-sized ebook reader with a 5in E-Ink touchscreen, 800MHz processor and 1GB of on-board storage.
Kobo describes the Mini as an "affordable and stylish" ebook reader that can be slipped into a pocket and taken anywhere.
The Mini measures 102 x 133mm, is 10mm thick (same as the larger Glo) and weighs just 134g.
As with the Glow, the Kobo Mini offers seven font styles in 24 different sizes, and there's also Wi-Fi b/g/n and a microUSB port, but sadly storage is capped at 2GB.
However only half of the 2GB is available to the user, and with no microSD card slot to increase this, this limits the number of books you can carry around with you to about 1,000 - which should still be more than enough for most bookworms.
The real selling point of the Kobo Mini, along with its pocetability, is that it will cost just £59.99. It will be available in black or white when it goes on sale on 1 October.
Kobo is also selling three interchangeable backs in red, purple and teal separately, but has not yet announced a price for these.