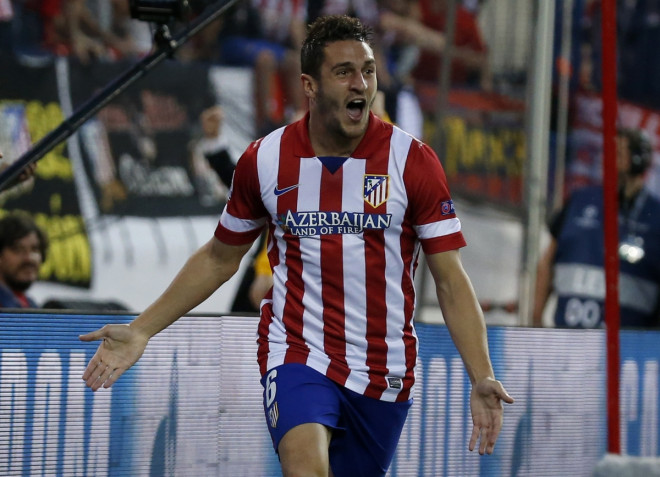 Manchester United target Koke has said he would do whatever it took for Thibaut Courtois to play in a Champions League semi-final against Chelsea – and has closed the door to a possible departure from Atletico Madrid at the end of the season.
The 22-year-old midfielder established himself in the Atletico first-team in the 2012-2013 season and has since become a sensation in La Liga, operating both as a playmaker and in a deeper role. He shone once again in the Champions League quarter-final against Barcelona, scoring the winner which put Atleti through to the semi-finals.
Asked about his future after the Barca win, Koke told Spanish newspaper Marca: "I am very happy and I do not think of leaving the club right now. I am happy at home, I want to continue and that is why I have a long contract."
Atletico Madrid president Enrique Cerezo has revealed they would have to pay an extra fee to use Thibaut Courtois should Los Rojiblancos be drawn against Chelsea in the Champions League semi-final.
The Blues inserted a special clause in Courtois' loan deal after the 2012 European Super Cup defeat against Atletico. However, Koke believes it would be worth paying the fee.
He said: "If I had that money, I would give it him [Courtois] to play because he is important as he has demonstrated. He is a great goalkeeper."
Asked about the Barcelona game, Koke said he was "very pleased", adding: "We played really well, here [at Vicente Calderon] especially. We demonstrated it on the pitch. There is no explanation for that, we are people who feel what we do and we prove it on the pitch."
Koke took the opportunity to thank Barca's fans for their congratulations, saying: "That is admirable. We were turning around and they clapped us – they valued the work we did and they wanted to thank us for our work."
The midfielder did not indicate a preference for any tie ahead of the Champions League semi-final draw, saying that "any team will be difficult," and avoided speculation about a possible clash with Real Madrid.
He said: "I do not care about a derby – the important thing is to progress to the final. The team that face us will be very difficult and I could not say which one is better. What is clear is that we will have to play a huge tie as we did against Barca."