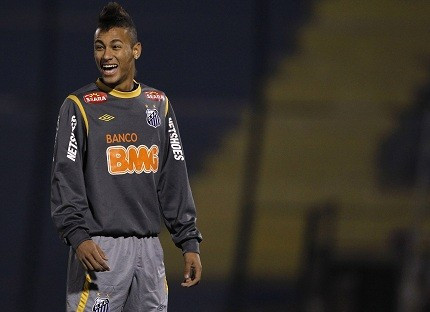 The pick of today's football transfer rumours from Real Madrid as reports intensify about which striker Jose Mourinho will bring to the Bernabeu. The Real Madrid boss has said that he wants to sign a world class striker this summer and reports in both the English and Spanish media claim he has four targets in mind. Will Real Madrid raise the £45m to bring Brazilian wonder kid Neymar to the club or will Mourinho look across town and sign Sergio Aguero from Atletico Madrid? Reports also suggest Mourinho could turn his attention to Manchester City and bid for either Emanuel Adebayor or Carlos Tevez.
According to Spanish newspaper AS, Real Madrid has come to an agreement with Santos to sign Brazilian wonder kid Neymar this summer. It was reported that Neymar wanted to stay at Santos until January in order to compete in the Club World Championships in December but the Spanish daily has suggested a deal for the player has now been completed. On Friday, AS led with the headline: 'Neymar already has a contract with Madrid.'
The Spanish daily claims that Real Madrid has agreed a £45m fee with Neymar's club Santos, with Madrid reportedly paying the striker in the region of £5m per annum. The newspaper reports that the highly rated forward will be signed this summer, and Jose Mourinho will build his young side around the prolific goal scorer.
ESPN claims that Jose Mourinho is looking across Madrid and has pinpointed Sergio Aguero as the man to provide the goals that Real Madrid need to challenge Barcelona both in La Liga and the UEFA Champions League. It has been reported by the American news agency that Sergio Aguero has reaffirmed his desire to leave Atletico Madrid and has revealed that he wants to stay in Spain. With Barcelona chasing deals for Alexis Sanchez and Cesc Fabregas, the only real possibility would be a move to local rivals Real Madrid. Aguero said: 'I will not return to Atletico, it is clear,' he told ESPN. 'I talked to the club, gave a statement, now my representatives are negotiating my departure from the club. I don't know when the agreement will be, but I will know when the Copa America is finished.'
Sky Sports News reports that Emmanuel Adebayor has welcomed Real Madrid coach Jose Mourinho's remarks hinting that the Togolese striker is more likely to move to the Bernabeu this summer than Neymar - who was reportedly Real Madrid's number one transfer target. The want-away Manchester City forward has found himself exiled at the start of pre-season at Eastland's and was dropped from the squad that travelled to the United States and has been training on his own.
Adebayor told Spanish newspaper AS: 'We talked before we went on vacation,' Adebayor told AS. 'He said he was calm, that he wanted me to stay. If he called me right now, I would catch the first plane out to Los Angeles [where Real are currently on their pre-season tour]. And if I could play three or four years in Madrid, I would retire at the club.'
The final striker being linked with Real Madrid is Manchester City forward Carlos Tevez. Goal.com suggested this week that Real Madrid is to offer Manchester City either Gonzalo Higuain or Karim Benzema and £25m in an attempt to land Carlos Tevez. The website reports that talks have opened between the two clubs over a possible deal with £25m cash a a swap deal involving one of the two big name strikers moving to Eastlands. Goal.com claims that Carlos Tevez is now Jose Mourinho's number one target ahead of fellow Argentine Sergio Aguero, who he is not willing to pursue much further due to the complications over the clubs rivalry.
Manchester City are said to be adamant that they want £50m for the player and will not allow their captain to leave for a reduced sum. It is thought that Manchester City will prefer a cash only deal but if Roberto Mancini feels either play could fit into their side it is thought the deal could tempt Manchester City to sell.