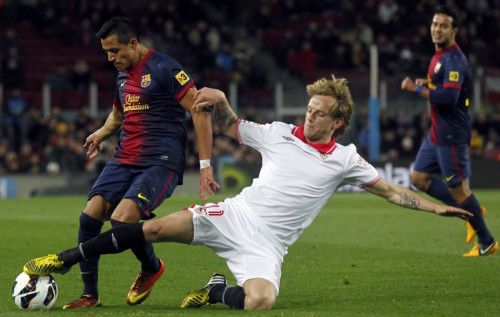 La Liga playmaker Ivan Rakitic is set to commit his future to Sevilla until at least the end of the season despite speculation linking him with a January move to Manchester United and Liverpool.
The 25-year-old midfielder has been one of the best players in La Liga during the first half of the season, scoring eight goals and grabbing eight assists in just 16 league appearances.
The Croatian, who has 18 months remaining on his current contract, recently rejected an offer of a new four-year new deal from Sevilla, increasing speculation regarding a move to the Premier League with United, Liverpool and Chelsea monitoring his situation.
However, the Croatian sensation claims that he loves Sevilla and that he is not thinking about a January move.
Asking about the interest from United and Liverpool, Rakitic said:
"Right now my only passion is Sevilla. I don't care about any other club in any other country. Since the beginning of the year I have taken on the responsibilities of being captain and my family gives me strength and courage. I have a very good relationship with (manager) Emery. We talk every day and I feel the confidence of the coach and the club."
"I feel connected to Sevilla and Spain. My family and I are happy here. Football is fun and easy to play. There is no tension about signing a new contract as the club has been very good to me and it would be a great honor to sign for longer," he added.
Manager David Moyes tried to sign Rakitic when he was at Everton while Liverpool recently sent scouts to Spain to get a first hand look at him in action.
Rakitic's release clause is £33m but the problem facing United and Liverpool will now be to convince the player to leave Sevilla.
The Andalucia-based club are not willing to sell him but president Pepe Castro recently admitted that he would not block his sale if someone were to meet his £33m release clause.
"If anyone else is in a rush to have Rakitic, his clause is €40m and we'll leave it at that," Castro said.