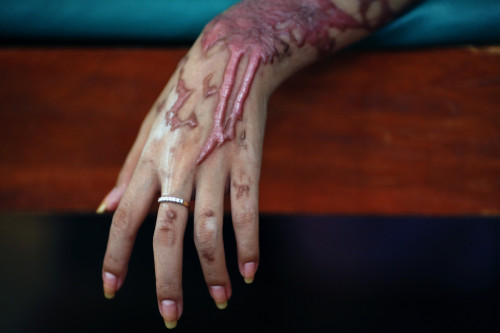 Scientists have grown blood and skin in a laboratory for the first time, giving hope to the 11 million people who suffer severe burns every year.
Researchers at the University Children's Hospital Zurich and the University of Zurich have created skin cells containing blood and lymphatic cells, and isolated all the skin cells required to make a skin graft similar to full-thickness skin.
Burns victims have large deep wounds that heal very slowly and result in life-long scars. In many instances, the only treatment is to perform skin grafts by taking tissue from other parts of the body.
However, only a small amount of skin can be removed as performing surgery like this creates fresh wounds that have to heel.
The only other option is to create a skin graft in a laboratory from a patient's own cells, but until now these did not contain blood, lymphatic capillaries, pigmentation, sebaceous glands, hair follicles or nerves.
Speaking about their lab-grown skin, Martin Meuli, head of the Surgical Clinic at the University Children's Hospital Zurich, said: "We were able to isolate all the necessary skin cells from a human skin sample and to engineer a skin graft similar to full-thickness skin that contains for the first time blood and lymphatic capillaries too."
When a person is wounded, tissue fluid can accumulate in a cavity on the skin's surface and can slow healing. Lymphatic vessels work to drain off this fluid.
The team isolated these lymphatic cells from human skin. Working in conjunction with blood capillaries – also engineered in the lab – the team were able to produce rapid and efficient vesicular supply of the skin graft.
In preclinical trials, human lymphatic capillaries and blood capillaries successfully connected with laboratory animals.
Ernst Reichmann, head of the Tissue Biology Research Unit, said: "What's novel is that the lymphatic capillaries collected and transported tissue fluid; hence they were functional.
"We assume that skin grafts with lymphatic and blood capillaries will, in future, both prevent the accumulation of tissue fluid and ensure rapid blood supply of the graft."