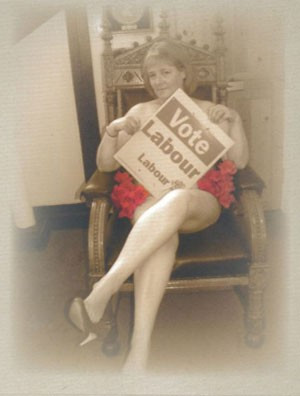 Labour councillors have stripped down to their birthday suit and posed nude in a bid to raise money for a good cause.
Eleven female members from the Sandwell council members in the West Midlands, including councillors Linda Horton and Lucy Cashmore found a creative way to draw attention to their polices by baring all for a charity calendar.
Other councillors who get involved in the naked activities were, Joy Edis, 60, Julie Webb, 55, Lorraine Ashman 52 and Lucy Cashmore.
There was little chance of a wardrobe malfunction as the brave ladies only had props to cover their modesty while they were photographed for the Women in Bloom calendar, for Prostate Cancer and Sandwell Children's Diabetes charities.
November shows Councillor Julie Webb, who represents Old Hill, sitting on a chair with a Union Flag and poppies draped over her, while Miss December, Councillor Joy Edis, who represents Friar Park in Wednesbury, is perched on on a staircase, modesty protected only by a strategically placed Christmas present and flowers.
The popular naked calendar which cost £6 and also includes a photograph of former Pop Idol judge Pete Waterman has been flying off the shelves since they hit the shops earlier this month.
Councillor Horton, 60, who posed with just a Vote Labour sign covering her body, said she was delighted with the results of her naked shoot.
She told the Daily Mirror: "We've had a very good response so far.
One of the male councillors dared us to do it. It was a bit embarrassing at first but we had a giggle."
However not all Sandwell voters were impressed by their methods of raising money. According to the Daily Mirror 34-year-old builder Andy Murphy said: "Fair play to them but I think there's more pressing things to be doing-there's loads of potholes in the roads."
Here's a gallery of the ladies in all their glory...