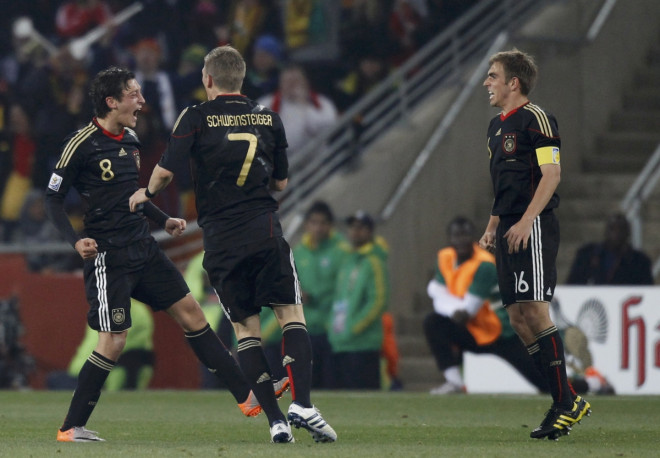 Bayern Munich captain Philipp Lahm says Arsenal midfielder Mesut Ozil possesses the capabilities to end the Bavarian's reign as European champions ahead of the Champions League last 16 first leg at the Emirates Stadium.
The German international knows all-too well the threat Ozil carries and though the 25 year old has suffered a dip in form, much responsibility to inspire the Gunners into the quarter finals rests on his shoulders.
And such is the quality that Ozil has, Lahm believes the Arsenal playmaker could "punish" Bayern should they have any lapses in defence.
"Many of the players at Bayern know exactly what Mesut is capable of - he has been one of the best central midfield players in the world for many years now," Lahm told Goal.com.
"He sees passes and space that very few players in the world are able to see - he is a very intelligent player.
"Even when he is maybe not having the best of games or is not in the best form - you can't give him any space or time on the ball - because in a second he can find that pass and you are punished."
With Aaron Ramsey out injured and Mikel Arteta suspended, Ozil will be responsible for spearheading Arsenal's creativity and even though his recent form has dipped, it would be timely should the ex-Real Madrid man rediscover his best against Bayern.
Former Arsenal striker Alan Smith has called on Ozil to play a leading role in giving his side the initiative heading into the second leg.
"They [Arsenal] haven't got too many choices [in the middle] really with [Mikel] Arteta suspended and Aaron Ramsey injured, so I think Ozil will play and he'll play through the middle," Smith told talkSPORT.
"[It's] not just about when he's on the ball and trying to create, but when Bayern Munich have got it he's got to do a job on Philipp Lahm, nipping back and getting his foot in, trying to stop the Bayern captain from getting his team ticking because if they do, it's going to be difficult.
"He has been disappointing at times since joining Arsenal but with such a big game you look to your big players and he's one of them, so there's a big onus on Ozil tomorrow night."