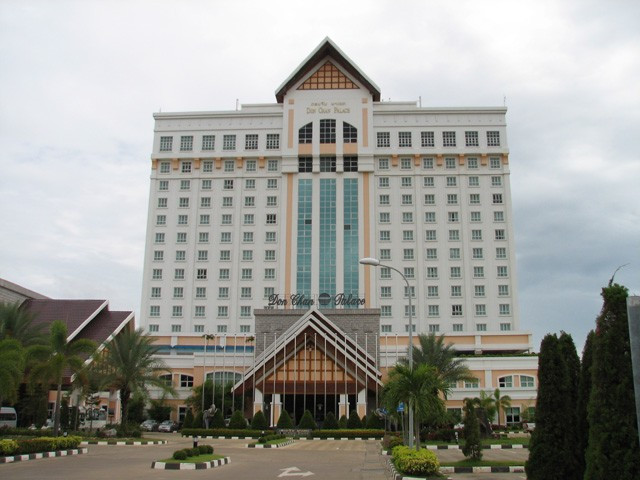 Ivory smugglers are openly selling their contraband in two luxury hotels in the southeast Asian country of Laos, according to Traffic, international watchdog of the illegal trade in endangered species.
More than 2,100 pieces of ivory in the form of jewellery, name seals and raw tusks are on display for sale in the hotels in the Laotian capital of Vientiane, Traffic said.
Buyers were mainly international visitors and in Vientiane prices were quoted in US dollars and Chinese yuan rather than the local currency.
"Two cabinets in the Don Chan Palace Hotel alone displayed a staggering 1,843 ivory items for sale," said Traffic.
The ivory trade is forbidden in Laos and no commercial export is allowed. Unlike its infamous neighbours China and Thailand, Laos has slipped under the radar on the illegal trade.
But data from the Elephant Trade Information System (ETIS) shows that is is implicated as the destination in four large seizures, totalling four tonnes of ivory, made between 2009 and 2011.
"While Gabon set an example to the world in destroying its audited ivory, it is vital nothing happens to seized ivory stocks in Asia prior to exhausting all investigative channels," said Chris Shepherd, deputy director of Traffic Southeast Asia, and co-author of the report on Laos.
"Countries in Asia must do their part to help African countries shut down the illegal ivory supply chain by finding out how the ivory got to them and who was responsible for bringing it there.
"Elephant poaching is at crisis levels and demands a coordinated global response."
In a highly symbolic move, Gabon's president decided at the end of June to burn five tonnes of seized ivory stock, which had been poached from the country's dwindling rhino population.
The Ministry of Water and Forests and the National Parks Agency confiscated the large ivory stock from poachers, who have been illegally hunting the country's elephants.
"The president is sending a very strong message to the poachers to say that Gabon is getting very serious about stopping this crisis," said Lee White, director of the national park service.
"There wouldn't be ivory poaching in Gabon if there weren't the market in Asia, and elsewhere, for ivory, and so the only solution is an international solution."