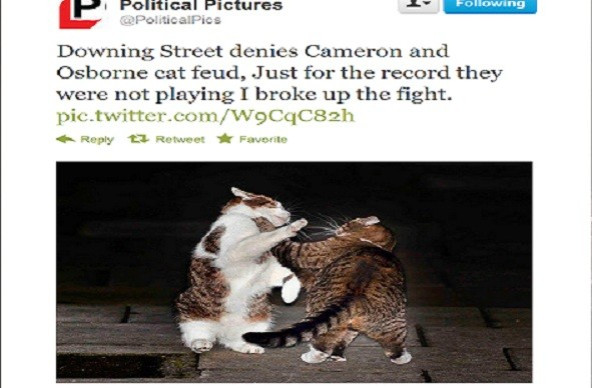 The fur started flying in Downing Street when two big beasts started knocking lumps out of each other in full view of the cameras.
The Downing Street pavement witnessed Cameron and Osborne slugging it out - completely vicariously of course.
A cat fight took place between Larry the house cat of No10 and neighbour Freya, who is looked after by the Chancellor's household at No11.
Osborne's tabby, who sports a pink diamante collar, was judged to have won the power struggle after Larry retreated back to the door of No 10.
The top level brawl was captured on camera by a snapper for the agency, Political Pictures.
A spokesman for No10 reported the pair of felines were just playing. But that account was totally refuted by onlookers.
"Just for the record, they were not playing, I broke up the fight," said a spokesman for Political Pictures.